August 15, 2022 | Unpublished In Progress
2022 HARVEST ADVENTURES
We are no alarmists. As farmers, there's almost no way one can be. Farming requires a strong constitution, a steady long-term hand, and an almost fanatical belief that the future will be better than the present. Taking a cue from nature, we subjugate our human emotions, and we trust that all cycles come and go and that – eventually – nature will "right" itself. Return itself to what we know and have experienced, and what we trust will be again.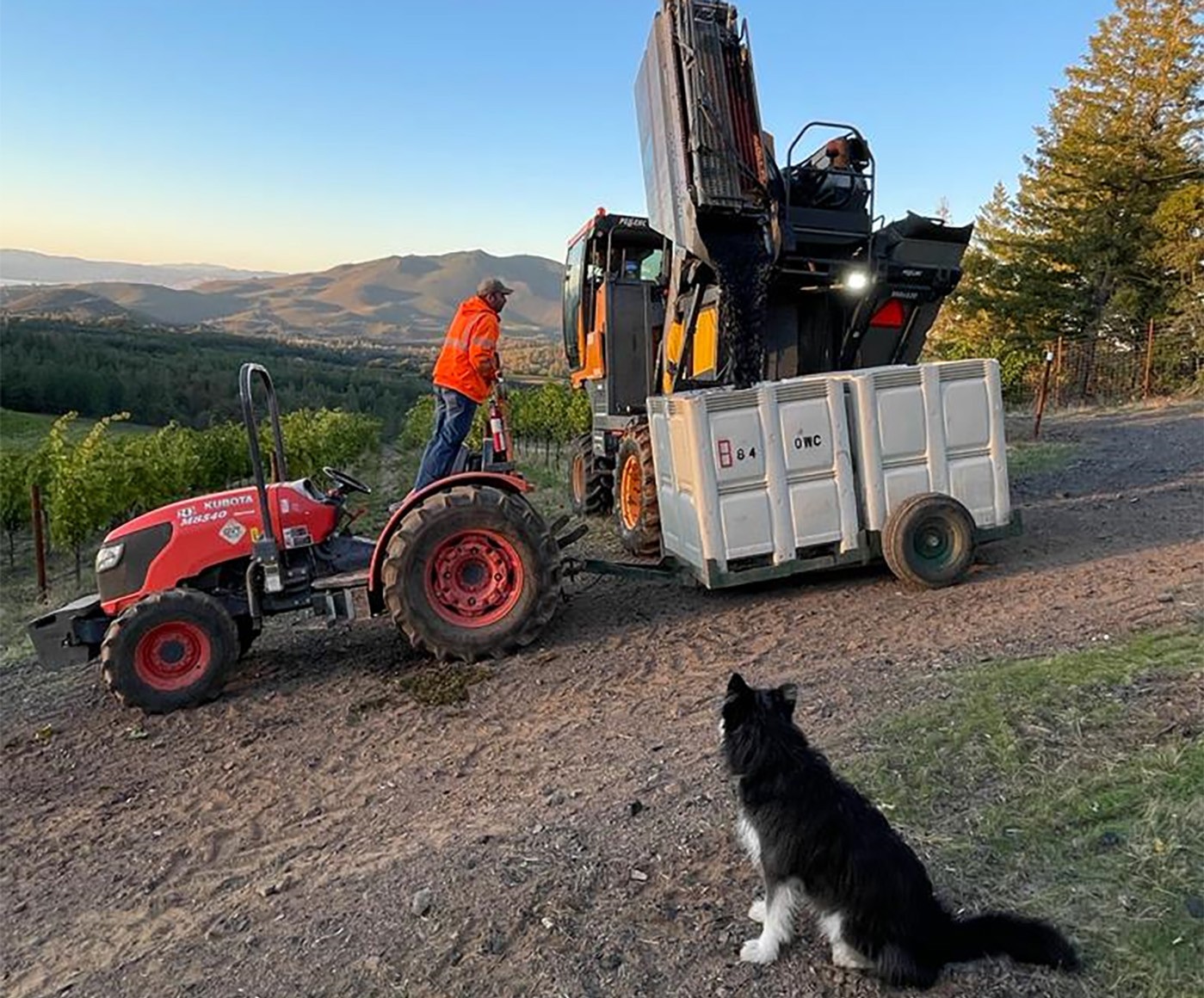 Farming Relies on the Bounty.
As important psychologically as it is economically, the bountiful harvest resets the decks. Nature delivers, and we watch the bounty in absolute awe.
Let's be blunt: the last five years have severely tested this belief. Since our last bounty, in 2017, here's the harvest score card:
2018: smoke year, dropped fruit to the ground
2019: phew, not bad – we'll take it
2020: smoke year, dropped fruit to the ground
2021: record early start, smallest berries on record, yields no better than 2 tons per acre
2022: late spring frost, record California heat at start of harvest, lean yields predicted again
Between successive North Coast fires, and the current megadrought, it's hard to be an optimist. Really hard sometimes. No bounty to refill the mental or monetary coffers. At Obsidian, we've been focused on changing the climate of wine. This spirit means welcoming many people into the world of wine, and making it accessible to many more than it traditionally has been. We don't believe you should spend a small fortune for wine. We also have planted in places (by the sea, in the mountains) that are protected against the most immediate ramifications of our warming world.
But…the last five harvests have put considerable upward pressure on prices, ours included. When yields are 2 tons per acre instead of the expected 4 tons per acre, our revenues from that fruit are exactly half of what we planned. When we have a couple of "zeros" (2018, 2020), combined with some "2's" (2021, 2022), it's a bleak scenario most of our costs are fixed. And that doesn't even consider glass prices (up 40%+), shipping increases, and capsules (which we are phasing out…doesn't add to the quality of the wine).
Low Yields Bring Wonderful Quality
Bear with us as we navigate the coming years. Prepare yourself for firmer prices to come. We'll do our absolute best to limit the effects. If there's a silver lining, it's that low yields bring wonderful quality and that – one a relative basis – we are blessed with ample, and fully sustainable, water sources. Just as we finished writing this letter, a rare September low pressure dropped down from the Gulf of Alaska into California and delivered 1.94 inches of rain on Sunday, September 18th. Nature takes away, but it also gives.
And now we look forward. Can we believe that nature will right itself over the long-term? Honestly, we don't know. Perhaps this is question only our children will be able to answer.
We appreciate the continued support. We'll keep doing our work. We carry on.
Comments
Commenting has been turned off.