2017 "Eleven Rows" Petite Sirah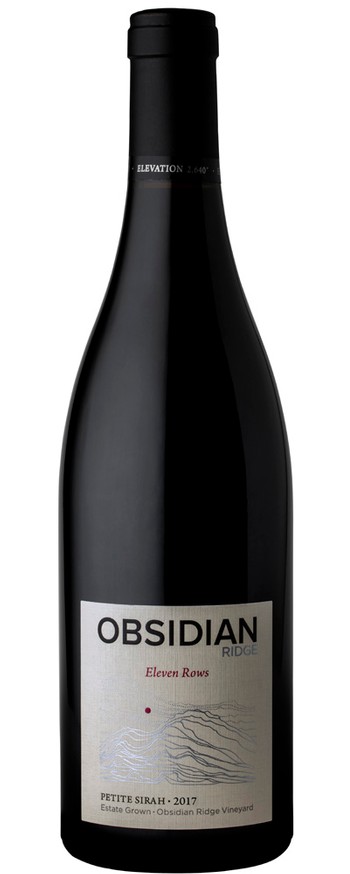 Wine Club Member Price $40.80
TASTING NOTES
Petite Sirah has a well-earned reputation of being dark, dense and having massive tannins. But the Petite Sirah from Obsidian Ridge, handled carefully in the cellar, has made its mark as a gentle version of the variety. While young, this wine is aromatically shy, with dried raspberry, vanilla and baking spice. It is dark in the glass, weighty on the palate, with silky tannins. Flavors are tightly intertwined: raspberry, dark cherry, sandalwood, dusty baking chocolate. Its mature personality will be revealed in the years to come.

HISTORY
Obsidian Ridge Vineyard is planted at 2,640' atop the Mayacamas range north of the Napa Valley. This is one of the newest American Viticultural Areas, named Red Hills Lake County for the distinctive volcanic soils that define this remarkable mountain appellation. The vineyard's red soils are shot through with obsidian rock—this steep, sloping terroir of obsidian gravel is all that a winemaker could hope for. The unrestricted drainage and meager soil fertility produce wines with great tannic structure.
VINTAGE
Northern California continued to recover from the drought, and the year began with abundant rainfall and mild spring weather. The rejuvenated vines produced a beautiful crop. Summer temperatures were normal and harvest began slightly early and slowly. On October 8th, terrible wildfires erupted in Napa and Sonoma Counties. We were fortunate that we had already completed the Chardonnay and Pinot Noir harvest from Poseidon Vineyard, and Obsidian Ridge Vineyard was well north of the fire and smoke and was totally unaffected. It was a year that the attentive winemaker, one familiar with their vineyards and with a committed and reliable crew, was rewarded.
WINEMAKING
Our tiny parcel of 11 rows of Petite Sirah was harvested from the top of our western slopes and vinified in a small tank. Since young Petite Sirah extracts color quickly, we kept the wine on skins for only a short amount of time. We then pressed the young wine and placed it into our signature Kádár barrels. We used just 25% new barrels to add a hint of spice to this already intense and complex wine.
Alex Beloz, Winemaker
Varietal/Blend
Petite Sirah
Appellation
Red Hills Lake County
Vineyard Designation
Obsidian Ridge Vineyard
Titratable Acidity
5.31 g/L
Aging
16 months in 25% New, Medium Toast Plus Barrels