2017 Obsidian Ridge "The Chief" Proprietary Red Blend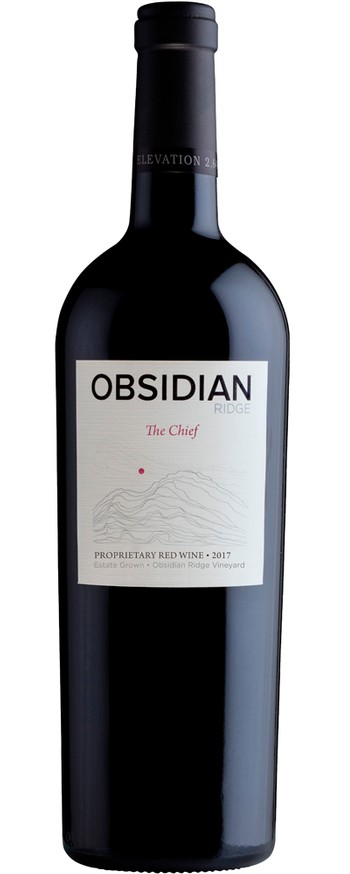 Wine Club Member Price $59.50
TASTING NOTES
The Chief, our red blend inspired by Bordeaux, clearly reflects the sunshine and ripeness that California achieves, but harks back to a previous era—one of earlier ripeness and nuanced winemaking. Aromatics are dominated by spice, sage, mountain chaparral, leather, licorice and raspberry. It has a medium weight on the palate, with flavors of sage, thyme, fresh pine forest and dried black raspberries, while in the background, silky tannins lurk. When it comes to California red blends, this wine has it all.
HISTORY
Lake County legend tells of Chief Konocti, who forbid his daughter to marry her suitor. The Chief and the suitor battled to the death, providing the color of the Red Hills. The daughter's tears filled Clear Lake, and the Chief's body formed Mt. Konocti, the prominent volcano that dominates the view from Obsidian Ridge. We honor "The Chief." We made just 12 barrels of this wine.
VINTAGE
Northern California continued to recover from the drought, and the year began with abundant rainfall and mild spring weather. The rejuvenated vines produced a beautiful crop. Summer temperatures were normal and harvest began slightly early and slowly. On October 8th, terrible wildfires erupted in Napa and Sonoma Counties. We were fortunate that we had already completed the Chardonnay and Pinot Noir harvest from Poseidon Vineyard, and Obsidian Ridge Vineyard was well north of the fire and smoke and was totally unaffected. It was a year that the attentive winemaker, one familiar with their vineyards and with a committed and reliable crew, was rewarded.
WINEMAKING
"The Chief" is a throwback to the classic Bordeaux-style blend, using only Cabernet Sauvignon, Malbec and Petit Verdot from select blocks and clones on Obsidian Ridge Vineyard. Picking in late September into early October, we carefully destemmed the fruit and fermented the grapes in small tanks, judiciously pumping over to avoid over-extraction. We placed the young wine in our Kádár barrels (75% new, 25% neutral) and aged it for 18 months. Then we painstakingly tasted and re-tasted each barrel, looking for the higher-toned acidity and faint herbaceous notes that are signatures of the slightly lighter, more elegant Bordelaise expression of Cabernet. We assembled a final blend of 12 barrels for our 2017 "The Chief," bottled the wine unfined and unfiltered, and gave it over a year in bottle to fully harmonize. This is a wine that beckons to the lover of classic Bordeaux.
Alex Beloz, Winemaker
Appellation
Red Hills Lake County
Harvest Date
Oct 24, 2017
Titratable Acidity
5.73 g/L
Aging
18 months in 75% New, Medium Toast Barrels
Wine Profile
Clone
337, 15, 191, 877 and 400