2017 "The Slope" Cabernet Sauvignon Magnum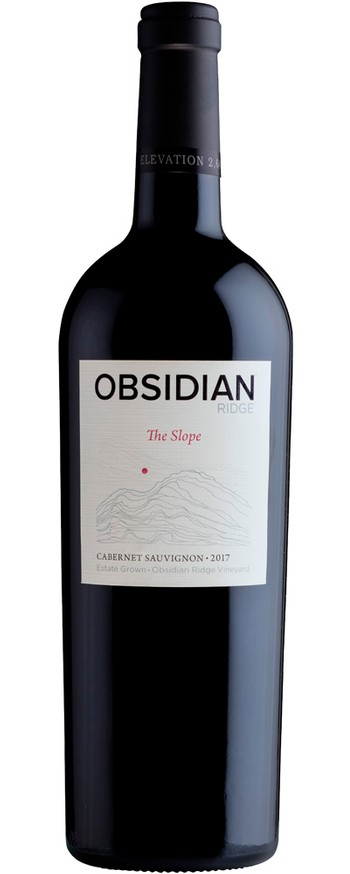 Wine Club Member Price: $127.50
TASTING NOTES
Classic aromas of Cabernet Sauvignon characterize this vintage: red fruit, black cherry, chocolate and licorice with notes of tomato leaf and pencil lead. On the palate, the wine is closed, shy, medium weight, with flavors of kirsch, dried herbs and coffee. The tannins are robust. If the bottle is younger than 6 years old, decant for maximum effect.
HISTORY
Obsidian Ridge Vineyard is planted at 2,640' atop the Mayacamas range north of the Napa Valley. This is one of the newest American Viticultural Areas, named Red Hills Lake County for the distinctive volcanic soils that define this remarkable mountain appellation. The vineyard's red soils are shot through with obsidian rock—this steep, sloping terroir of obsidian gravel is all that a winemaker could hope for. The unrestricted drainage and meager soil fertility produce wines with great tannic structure.

VINTAGE
Northern California continued to recover from the drought, and the year began with abundant rainfall and mild spring weather. The rejuvenated vines produced a beautiful crop. Summer temperatures were normal and harvest began slightly early and slowly. On October 8th, terrible wildfires erupted in Napa and Sonoma Counties. We were fortunate that we had already completed the Chardonnay and Pinot Noir harvest from Poseidon Vineyard, and Obsidian Ridge Vineyard was well north of the fire and smoke and was totally unaffected. It was a year that the attentive winemaker, one familiar with their vineyards and with a committed and reliable crew, was rewarded.
WINEMAKING
Grapes sourced for "The Slope" came from our "C" block on the steepest slope of Obsidian Ridge Vineyard. Historically, it is the earliest block to ripen, but this year it took a little longer—we harvested about two weeks later than expected. The fruit flavors exhibited a richness that was unlike the rest of the vineyard. After carefully de-stemming the fruit, we fermented the grapes in a small tank at high temperatures to gain as much extract as possible. We placed the young wine into a handful of Kádár Petraea barrels from our cooperage. The oak from these barrels was sourced exclusively for its extra-tight grain. Over the 18 months of barrel age, the aroma and spiciness of this wine became so compelling that it made this an easy choice for "The Slope."
Alex Beloz, Winemaker
Varietal/Blend
100% Cabernet Sauvignon
Appellation
Red Hills Lake County
Vineyard Designation
Obsidian Ridge Vineyard
Harvest Date
Oct 14, 2017
Titratable Acidity
5.65 g/L
Aging
18 Months in 75% New Petraea, Medium Toast Plus Barrels