2020 Obsidian Wine Co. "Jacobsen Ranch" Sauvignon Blanc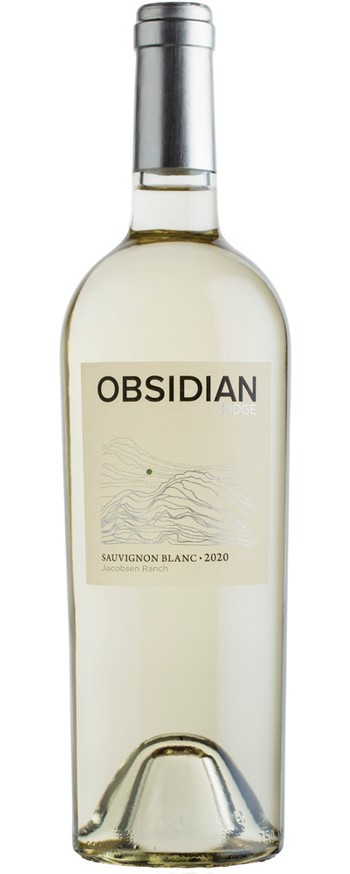 TASTING NOTES
Vibrant aromas of lemon, lime, green apple, and crushed stone. Crisp and fresh on the palate, with round fruit flavors of lemon curd and key lime focused by bright acidity and a saline-like minerality. A wonderful balance between fruit and acidity, with none of the cut grass or ripe apricot characters often associated with the variety.
VOLCANIC VINEYARD SITE
The region surrounding our Obsidian Ridge Vineyard boasts the youngest and most diverse volcanic soils in the Mayacamas Mountains. The Kelsey Bench sits northwest of our estate, on a volcanic fan of red volcanic soils studded with obsidian rock. The Jacobsen Ranch is planted at 1,551 feet elevation on a lava flow. Our neighbor Larry Rogers is a long-time pear farmer, and personally delivers his outstanding Sauvignon Blanc grapes to us. His nineteen acres of Musque Clone Sauvignon Blanc are exposed to 10% more ultraviolet light than at sea level, and often experience 50 degree temperature swings in a single day, resulting in wines that achieve generous fruit flavors while retaining bracing acidity. This limited bottling is produced expressly for our wine club members, with limited availability to our visiting guests.
VINTAGE
The season began with ideal conditions through the Spring and early Summer, without any major frost or heat events, allowing for uniform development and ripening. Yet few wines were produced in an infamous year notable for a global pandemic and multiple wildfires in the North Coast. Lightening-sparked fires in mid August fortunately had minimal impact on our vineyards, allowing us to harvest high-quality fruit from early-ripening varieties. Severe regional fires in late September, however, brought the season to an abrupt end.
WINEMAKING
Grapes were harvested August 31st in the cool pre-dawn hours and pressed whole-cluster upon arrival at the winery. The juice was kept cold in tank throughout the fermentation process, which lasted several weeks. We bottled the wine only a few months after harvest in order to preserve the clean, bright flavors and lovely aromatics of this varietal.
Alex Beloz, Winemaker
Varietal/Blend
Sauvignon Blanc
Appellation
Kelsey Bench Lake County
Titratable Acidity
6.1 g/L