2010 Obsidian Ridge "Half Mile" Proprietary Red Blend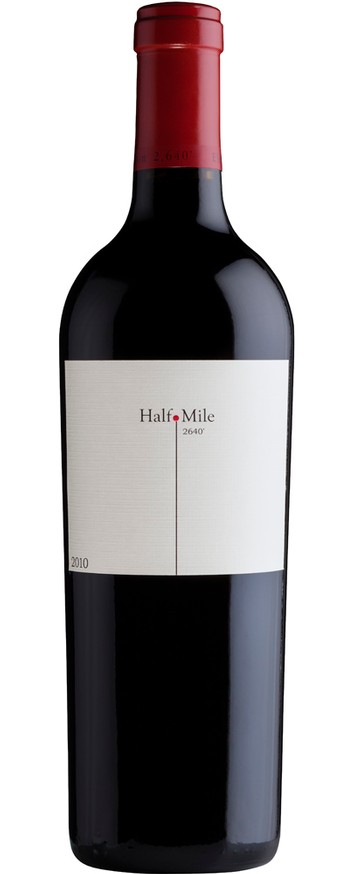 TASTING NOTES
The expansive, robust and generous aromas of brambly fruit, dark hibiscus and violet are embraced by the warmth and sweet spice of extended three-year aging in the tightest grain Tokaji oak. A dusty, rugged bouquet indicates a bit of what is to come on the palate—massive structure. This is unabashed, mountain-grown wine in a full crescendo of stony tannins encouraged by the acidity of cold night air currents. This structure will maintain the layers of ripe fruit and the beguiling forest under-brush flavors for decades of cellaring.
HISTORY
Eleven years ago when Peter laid out the blocks to be planted at Obsidian Ridge, he singled out a notch at the highest elevation with the hope of making a vin de garde. At 2,640' elevation, this vineyard may produce the only wine made in California at half-mile high. Planted with Petit Verdot, Cabernet Franc and, of course, Cabernet Sauvignon, the block distinguishes itself with one variety in one year, and another in the next.
VINTAGE
The 2010 vintage was a roller coaster. The spring started off with welcome rainfall after three previous years of drought. Subsequent summer months were mild, with the vines holding a healthy green vigor. Then came a heat wave (more of a heat blast!) in late September. We picked in a frenzy from the ripest blocks. But then the heat broke, and the autumn played out in a long, cool harvest season. We were lighting obsidian-ringed campfires for warmth on the last mornings of picking, and our trucks left the hill just as the fall rains came down in force. The results were two camps of wines: the early lots with ultra-ripe, super concentrated red fruit flavors, and the later lots with fresher fruit flavors and lower acid. Either would make a compelling stand-alone wine, but having both styles provided exceptional blending options.
WINEMAKING
Following on the success of our first vintage making Half Mile, we have applied the same principles and given the wine all new barrels from the Tokaji forest. These are slow extraction barrels, and the benefit of time is apparent only toward the end of the wine's residence in them. Blending a significant amount of Petit Verdot into the Cabernet Sauvignon, far more than the typical 2% to 5%, we have learned how the monolithic nature of Petit Verdot will be perforated, cracked open, and its more poetic soul exposed if we push it and trust in its evolution. The acidity of Petit Verdot, all the more remarkable in a vintage such as 2010, is tenacious while the fruit lingers on the vine and is an essential contributor to the persistence and focus of the wine.
Varietal/Blend
Cabernet Sauvignon
Appellation
Red Hills Lake County
Titratable Acidity
6.6 g/L
Wine Profile
Cooperage
100% New, Medium Toast Plus Kádár Barrels