2015 Obsidian Ridge "The Cinders" Syrah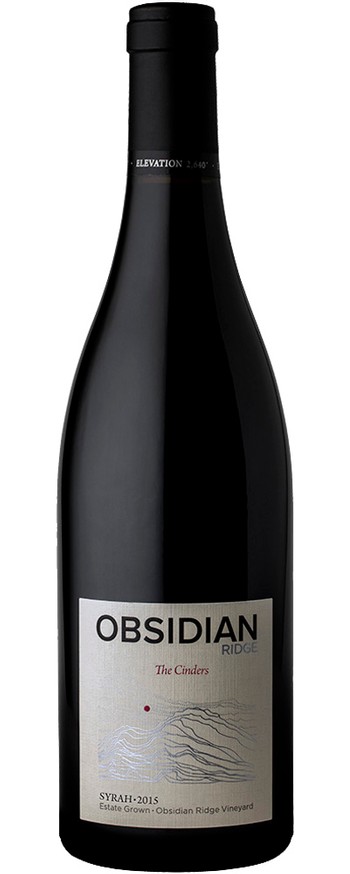 TASTING NOTES
Showing a deep red hue with a core of violet shimmer, this wine has aromas of blackberry bramble and baked plums, then intense dark fruit aromas accentuated with loads of spicy nutmeg, cinnamon and an earthy leather note. Hints of smoked bacon add to the allure. Rich with blackberries, black cherries and licorice, the mouthfeel is lively with acidity that keeps the wine fresh and balanced despite the weight. A smoky char lingers on the finish. This is a wine that will definitely evolve much with time.
HISTORY
Obsidian Ridge Vineyard is planted at 2,640' atop the Mayacamas range north of the Napa Valley. Where now there are vines, there was once an abandoned walnut orchard. Cleared into a mound, the burn pile left a mark—maybe fifty feet in diameter—of dark cinders mixed with the ubiquitous black rock. The handful of vines growing from "The Cinders" produces wine unlike anything else grown on Obsidian Ridge.
VINTAGE
This harvest was especially memorable in the Red Hills at our Obsidian Ridge Vineyard. The "Valley Fire", which scorched the earth across 76,000+ acres, actually began only a few miles south of our vineyard in the town of Cobb. Adding to the drama was the fact that the day of the fire coincided with our first day of harvest. We were able to get our first load safely down the mountain, but because of the extent of the blaze, we were not permitted to reenter for days. It was a nail-biting period, rampant with phone calls between the fire authorities, our vineyard managers and the winery to try and assess which way the wind was blowing. Days later, when we finally got a call from the county authorities that we could reenter escorted, we found that we were upwind of any and all smoke and fire. Our vineyards were unscathed. Cool temperatures and an unusual strong rainfall a week later helped the valiant firefighters gain the upper hand on the flames, allowing us to experience a very high quality wine harvest amidst the environmental and human toll that the fire had taken on the surrounding area.
WINEMAKING
Our Syrah is a blend of two clones planted on the mountainside, with each clone lending distinct character to the final blend. Handpicked at the crack of dawn, the grapes were carefully destemmed to tank where a warm fermentation followed to extract the brooding flavors that come with a young Syrah. The new wine was pressed at dryness and placed in our signature Kádár Hungary barrels, where it aged for 18 months. Frequent rackings in the wine's youth released the expressive fruit character of the wine.
Alex Beloz, Winemaker

Appellation
Red Hills Lake County
Harvest Date
Sept 24, 2015
Titratable Acidity
6.1 g/L
Aging
18 Months in 75% New Medium Toast+Barrels
Wine Profile
Cooperage
100% Kádár Hungary