2015 Obsidian Ridge "The Slope" Cabernet Sauvignon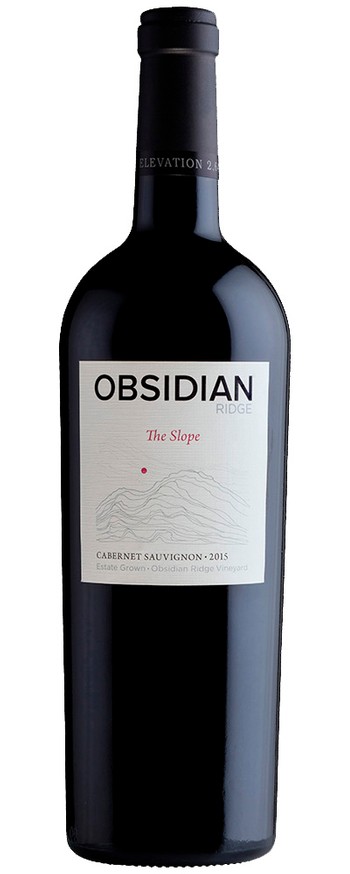 TASTING NOTES
Rich and ripe with dark plums, cassis, chocolate and cherry cordials, the aroma is accentuated with vanilla bean, cinnamon and brown sugar. The wine has a soft entry and moderate tannin that sits with beautiful weight on the palate. Flavors of red cherries and bramble fill the mouth. Finishing with light oak notes and hints of caramel, this is an age-worthy wine indeed. This style is the essence of Cabernet Sauvignon off Obsidian Ridge. Truly unmistakable.
HISTORY
Obsidian Ridge Vineyard is planted at 2,640' atop the Mayacamas range north of the Napa Valley. This is one of the newest American Viticultural Areas, named Red Hills Lake County for the distinctive volcanic soils that define this remarkable mountain appellation. The vineyard's red soils are shot through with obsidian rock — this steep, sloping terroir of obsidian gravel is all that a winemaker could hope for. The unrestricted drainage and meager soil fertility produce wines with great tannic structure.
VINTAGE
This harvest was especially memorable in the Red Hills at our Obsidian Ridge Vineyard. The "Valley Fire", which scorched the earth across 76,000+ acres, actually began only a few miles south of our vineyard in the town of Cobb. Adding to the drama was the fact that the day of the fire coincided with our first day of harvest. We were able to get our first load safely down the mountain, but because of the extent of the blaze, we were not permitted to reenter for days. It was a nail-biting period, rampant with phone calls between the fire authorities, our vineyard managers and the winery to try and assess which way the wind was blowing. Days later, when we finally got a call from the county authorities that we could reenter escorted, we found that we were upwind of any and all smoke and fire. Our vineyards were unscathed. Cool temperatures and an unusual strong rainfall a week later helped the valiant firefighters gain the upper hand on the flames, allowing us to experience a very high quality wine harvest amidst the environmental and human toll that the fire had taken on the surrounding area.
WINEMAKING
The grapes sourced for "The Slope" came from our C and D block, the steepest sections of Obsidian Ridge. They were some of the earlier grapes to ripen, and they exhibited a richness and spice that was unlike the rest of the blocks. After carefully destemming the fruit, we fermented the wines separately in tanks at higher temperatures to gain as much extract as possible for this big wine. We placed the young wines into a handful of Kádár "Petraea" barrels from our cooperage; the oak from these barrels was sourced exclusively for its extra-tight grain. The two lots were eventually blended together and barrel-aged for 18 months.

Alex Beloz, Winemaker

Varietal/Blend
Cabernet Sauvignon
Appellation
Red Hills Lake County
Harvest Date
Sept 14, 2015
Titratable Acidity
5.55 g/L
Aging
18 Months, 75% New Medium Toast+
Wine Profile
Cooperage
100% Kádár Hungary