2015 Poseidon Vineyard Estate "Blanc de Blanc"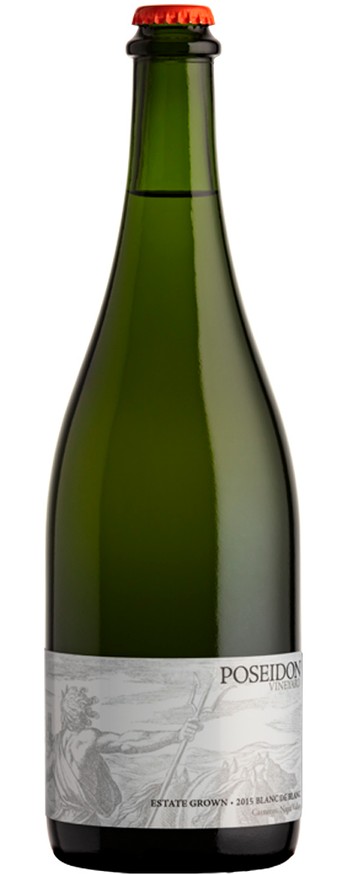 HISTORY
A French citizen, our mother Catherine worked at the French Consulate. In 1973, a late night of playing bridge with a banker from the French Bank of California (now Bank of the West) led to the tip that Moet & Chandon, the famed Champagne house, was secretly buying land in Napa and planning to open the first French-owned sparkling wine house in the U.S.

Always the entrepreneur, our father Nicholas hopped into his car the very next day, drove up to Mount Veeder and knocked on the door of John Wright, who was charged with running the new venture. He offered to sell him fruit from a vineyard ("Chardonnay Vineyards", subsequently renamed Poseidon Vineyard) that he was just planting. John, in his shock, could only utter "How did you know….??"

During the 2015 vintage, under the guidance of our Founding Winemaker Michael Terrien, we made a limited number of cases of our own sparkling wine. Over the years, we have been quietly drinking this wine ourselves, but recently decided that it would be kind of us to share it a bit more broadly now that its age and freshness have collided into near bubbly perfection.
VINTAGE
2015 was the earliest vintage on record across the state. Four consecutive years of drought led to significant stress on the vines. Luckily, our mature vineyards with deep roots not only survived—but thrived—through the heat of a late summer. Earlier on in spring, however, we had a cool period during bloom which hampered set in many areas. Our Pinot Noir was mainly affected, with cluster counts reduced and tint berry size, with some clusters growing only a couple of inches long. All this was great for quality but brutal on the yields and pocketbook. Our Chardonnay held strong with only slight reductions in crop. Quality was still high in our wines, despite the heat and we made excellent, ripe renditions of our estate wines.
Varietal/Blend
100% Chardonnay
Appellation
Los Carneros, Napa Valley
Harvest Date
Aug 19, 2015
Aging
4 Months in Neutral Kádár Barrels
Wine Profile
Cooperage
100% Kádár Hungary
Year Planted
1973; Replanted in 1997