2016 Poseidon Vineyard "The Bench" Chardonnay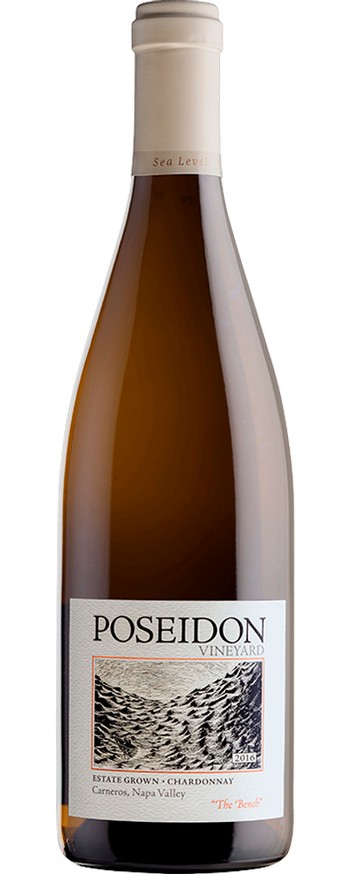 Wine Club Member Price: $38.25
TASTING NOTES
Perfumed aromas of crisp apples, lime zest and ginger root with hints of toasted baguette. On entry the wine is refreshing and vibrant, leading to flavors of citrus meringue and a layer of wet stone and flint that adds to the complexity. The wine dances on the palate, its long finish characterized by an engaging acidity and a beautiful final sweet note.
HISTORY
The maritime environment of the Carneros grape-growing region delivers cool, foggy mornings followed by warm days that slowly nurture ripening. This seaside influence is particularly acute at our Poseidon Vineyard; one can see the masts of boats bobbing in the water just a few steps to the south. The prominent feature of our vineyard is the gravelly, geological "Bench"—the elevated, rocky, former riverbank of the Carneros Creek—that runs serpentine through the center of the site. From this unique geological feature spring some of our most distinct, small-production wines.
VINTAGE
The 2016 growing conditions were ideal in many ways. California received much needed rains in the winter with an El Niño season. The parched earth finally received moisture needed to replenish lakes, rivers and ponds which ultimately ripen healthy crops. Better set conditions at flowering resulted in increased yield compared to the 2015 vintage, which was alarmingly low for many vineyards in Northern California. Cooler conditions throughout the summer slowed down the pace of growth, increasing hang-time, allowing the vines to focus on flavor development. The moderate autumn weather allowed for a measured pace in the cellar throughout the long harvest, making for easier logistics and a happy cellar crew.
WINEMAKING
The fruit was pressed whole cluster in small batches and then barrel fermented in new, 300 liter barrels that were lightly toasted specifically for this wine. These special, larger format barrels provided all the good things that barrel fermentation brings to Chardonnay: full body and sweeter flavors. The unique low toast of the barrels ensured that the fruit aromas and flavors would shine through. A special yeast strain was used to promote a long fermentation, adding a new level of complexity to this wine. Lees stirring after malolactic fermentation was employed to boost the smooth, elegant texture.
Alex Beloz, Winemaker
Varietal/Blend
Chardonnay
Appellation
Los Carneros, Napa Valley
Harvest Date
Sept 8, 2016 - Sept 21, 2016
Titratable Acidity
5.72 g/L
Aging
9 Months in 60% New, 300L Light Medium Toast Barrels, 40% in Neutral Barrels
Fermentation
100% Malolactic Fermentation
Wine Profile
Cooperage
100% Kádár Hungary
Year Planted
1973; Replanted in 1997