2017 Obsidian Ridge "The Cinders" Syrah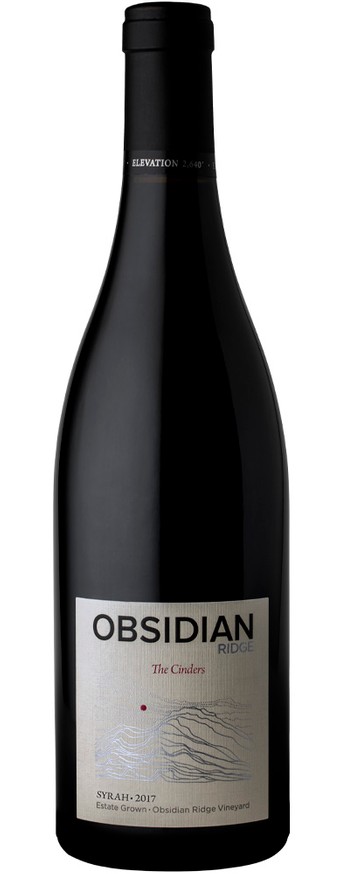 Wine Club Member Price: $51.00
TASTING NOTES
Dark in color with aromas of dried flowers, savory herbs, white pepper, Bay laurel, cedar and leather, it has a medium weight in the mouth, with blackberry, red raspberries, black currant leaf and a touch of cedar. The finish is dry with wooly tannins that will cut through meat proteins or soften with age. This wine is still young—watch it evolve over the next decade.
HISTORY
Obsidian Ridge Vineyard is planted at 2,640' atop the Mayacamas range north of the Napa Valley. Where now there are vines, there was once an abandoned walnut orchard. Cleared into a mound, the burn pile left a mark—maybe fifty feet in diameter—of dark cinders mixed with the ubiquitous black rock. The handful of vines growing from "The Cinders" produces wine unlike anything else grown on Obsidian Ridge.
VINTAGE
Northern California continued to recover from the drought, and the year began with abundant rainfall and mild spring weather. The rejuvenated vines produced a beautiful crop. Summer temperatures were normal and harvest began slightly early and slowly. On October 8th, terrible wildfires erupted in Napa and Sonoma Counties. We were fortunate that we had already completed the Chardonnay and Pinot Noir harvest from Poseidon Vineyard, and Obsidian Ridge Vineyard was well north of the fire and smoke and was totally unaffected. It was a year that the attentive winemaker, one familiar with their vineyards and with a committed and reliable crew, was rewarded.
WINEMAKING
Our Syrah is a blend of two clones planted on the western mountainside, with each clone lending distinct character to the final blend. Hand-picked at the crack of dawn, the grapes were carefully de-stemmed to the same tank, where a warm co-fermentation followed to extract the brooding flavors that come with a young Syrah. The new wine was pressed at dryness and placed in our signature Kádár barrels, where it aged for 15 months. Frequent racking in the wine's youth released the expressive fruit character of the wine.
Alex Beloz, Winemaker
Varietal/Blend
100% Syrah
Appellation
Red Hills Lake County
Titratable Acidity
6.45 g/L
Aging
15 Months in 40% New, Medium Toast Plus Barrels