2017 Poseidon Vineyard "Sea Change" Chardonnay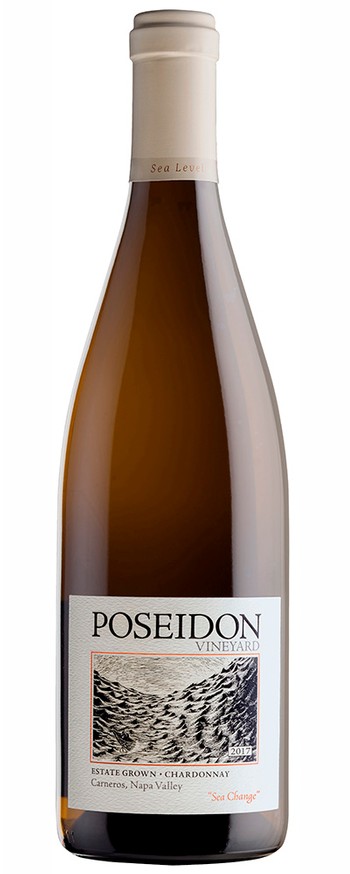 Wine Club Member Price: $32.30
TASTING NOTES
Crisp green apple and zesty Meyer lemon mingle delicately with a touch of green melon pith on the nose. The fragrance is echoed in the mouth, with lemon zest and golden apple surrounding a mineral core. The bright mouth-watering acidity unfolds to a long, structured finish.

HISTORY
With Sea Change Chardonnay, we offer a wine that embraces the natural acidity of our cool, windy, fog-bound vineyard by suppressing malolactic fermentation. Without this conversion of the grapes' malic acid (from malum, or "apple," in Latin) to the softer lactic ("milk") acid, the resulting wine retains a crisp snap and bright green apple character—a veritable Sea Change for Napa Chardonnay.
VINTAGE
Northern California continued to recover from the drought, and the year began with abundant rainfall and mild spring weather. The rejuvenated vines produced a beautiful crop. Summer temperatures were normal and harvest began slightly early and slowly. On October 8th, terrible wildfires erupted in Napa and Sonoma Counties. We were fortunate that we had already completed the Chardonnay and Pinot Noir harvest from Poseidon Vineyard. Obsidian Ridge Vineyard was well north of the fire and smoke and was totally unaffected. It was a year in which the attentive winemaker, one familiar with his vineyards and with a committed and reliable crew, was rewarded.
WINEMAKING
The fruit was harvested by hand in early September when we felt acidity was at its peak. The grapes were pressed whole-cluster into a stainless steel tank to preserve freshness, then allowed to settle and ferment. After fermentation, the wine rested on its lees for two months to allow for flavor integration and add suppleness to the texture. Because we were going for a more crisp, tart-style Chardonnay with Sea Change, we suspended malolactic fermentation, then put the wine into neutral Kadar barrels, where it aged for a further six months.

Alex Beloz, Winemaker
Varietal/Blend
100% Chardonnay
Appellation
Los Carneros, Napa Valley
Harvest Date
September 12, 2017
Titratable Acidity
6.13 g/L
Aging
2 Months in Stainless Steel, 6 Months in Neutral Barrels
Wine Profile
Cooperage
100% Kádár Hungary
Year Planted
1973; Replanted in 1997