2017 Poseidon Vineyard "The Bench" Chardonnay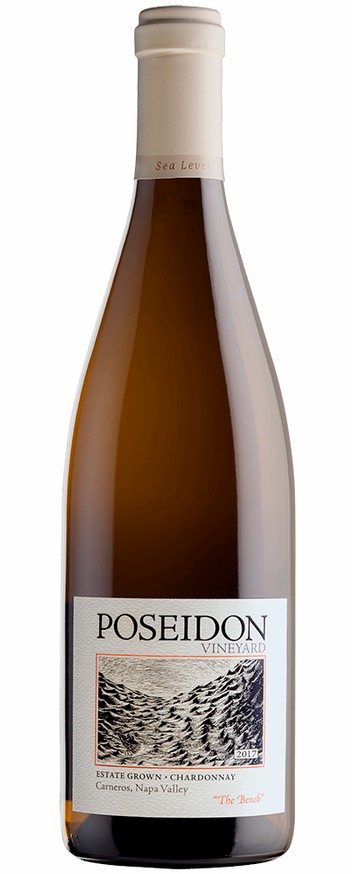 Wine Club Member Price $38.25
Experience an Exquisite Seaside Chardonnay
TASTING NOTES
This straw-colored wine bursts with aromatics of Meyer lemon, gardenia and tuberose. With a little more time in the glass, a waft of lemon curd and lime oil drift up with soft hints of baking spice. While smooth on the entry, the wine maintains a bright acidity similar to that of freshly squeezed lemons. A light creaminess coats the mid-palate and finishes with tones of toasted baguette and crushed graham crackers.
HISTORY
The maritime environment of the Carneros grape-growing region delivers cool, foggy mornings followed by warm days that slowly nurture ripening. This seaside influence is particularly acute at our Poseidon Vineyard; one can see the masts of boats bobbing in the water just a few steps to the south. The prominent feature of our vineyard is the gravelly, geological "Bench"—the elevated, rocky, former riverbank of Carneros Creek—that runs serpentine through the center of the site. From this unique geological feature spring some of our most distinct, small-production wines.
VINTAGE
Northern California continued to recover from the drought, and the year began with abundant rainfall and mild spring weather. The rejuvenated vines produced a beautiful crop. Summer temperatures were normal and harvest began slightly early and slowly. On October 8th, terrible wildfires erupted in Napa and Sonoma Counties. We were fortunate that we had already completed the Chardonnay and Pinot Noir harvest from Poseidon Vineyard. Obsidian Ridge Vineyard was well north of the fire and smoke and was totally unaffected. It was a year in which the attentive winemaker, one familiar with his vineyards and with a committed and reliable crew, was rewarded.
WINEMAKING
The fruit was pressed whole-cluster in small batches and then barrel-fermented in new, 300-liter barrels that were lightly toasted specifically for this wine. These special, larger-format barrels provided all the good things that barrel fermentation brings to Chardonnay: full body and sweeter flavors. The unique low toast of the barrels ensured that the fruit aromas and flavors would shine through. A special yeast strain was used to promote a long fermentation, adding a new level of complexity to this wine. Lees stirring after Malolactic fermentation was employed to boost the smooth, elegant texture.
Alex Beloz, Winemaker
Varietal/Blend
100% Chardonnay
Appellation
Los Carneros, Napa Valley
Harvest Date
September 12, 2017
Titratable Acidity
5.62 g/L
Aging
8 months in 60% New, 300L Light Medium Toast Plus Barrels
Wine Profile
Cooperage
100% Kádár Hungary
Year Planted
1973; Replanted in 1997