2018 Poseidon Vineyard "Sea Change" Chardonnay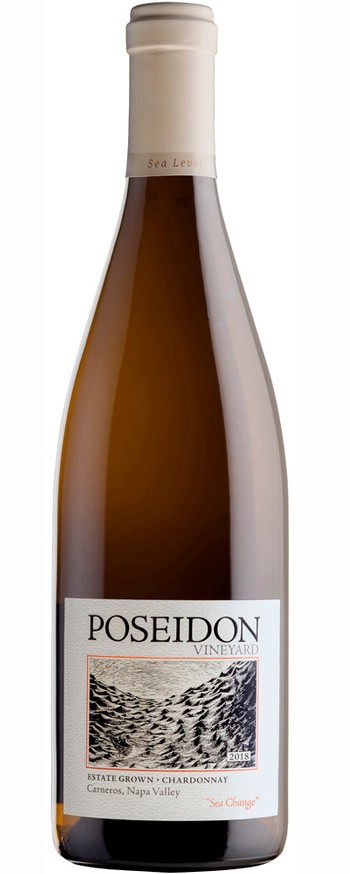 Wine Club Member Price: $32.30
TASTING NOTES
Our lightest, freshest, first-release-of-every vintage Chardonnay from Poseidon Vineyard always makes an impression with its energetic aromas of lime, grapefruit and a bit of apricot and guava. The mouthfeel is driven by the bright, edgy acidity that gives this wine its energy. Aromas are echoed by flavors of lime, lime zest and pomegranate. This wine tells you to eat—and we suggest fresh West Coast oysters.
HISTORY
With Sea Change Chardonnay, we offer a wine that embraces the natural acidity of our cool, windy, fog-bound vineyard by suppressing malolactic fermentation. Without this conversion of the grapes' malic acid (from malum, or "apple," in Latin) to the softer lactic ("milk") acid, the resulting wine retains a crisp snap and bright green apple character—a veritable Sea Change for Napa Chardonnay.
VINTAGE
As the impact of the 2011-2017 drought continued to fade, the growing season was characterized by moderate temperatures. Fruit development was gradual, without stress, and uniform. But as harvest got underway, temperatures varied dramatically, creating a nerve-wracking stop-start, wait-versus-race dynamic for the crews and cellar. Attention and experience in the vineyard proved critical during this stretch. While wildfires created havoc in other parts of the state, the Poseidon Vineyard was entirely unaffected. The harvest was one of the most generous and flavorful crops in recent memory.
WINEMAKING
The fruit was harvested by hand in mid-September when we felt acidity was at its peak. The grapes were pressed whole-cluster into a stainless steel tank to preserve freshness, then allowed to settle and ferment. After fermentation, the wine rested for a period on its lees to allow for flavor integration and add suppleness to the texture. Because we are going for a more crisp, tart-style Chardonnay with Sea Change, we suspended malolactic fermentation, then put the wine into neutral Kádár barrels, where it rested for several months.
Alex Beloz, Winemaker
Varietal/Blend
100% Chardonnay
Appellation
Los Carneros, Napa Valley
Harvest Date
September 17, 2018
Titratable Acidity
8.38 g/L
Aging
2 months in Stainless Steel, 7 months in Neutral Kádár Barrels
Wine Profile
Year Planted
1973; Replanted in 1997
Vine Spacing
6.2 Tons/Acre