2018 Poseidon Vineyard "The Bench" Pinot Noir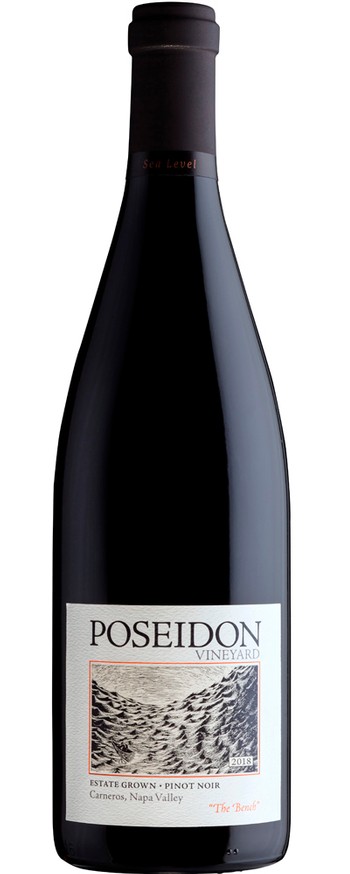 Club Member Price: $53.55
TASTING NOTES
Sometime the middle child finds it difficult to stand out, but sometimes they bask in being a blend of their siblings. So is it that our Bench Pinot Noir basks in the glory of balance, sharing some of the bigger, richer personality of the Primo's Hill bottling, and flavor elements of the lighter Estate Blend. Aromas of dried raspberries, cola, black cherry and leather. Medium-full on the palate, with a long, seamless flow. This particular vintage of Pinot Noir has a vein of silky tannins that allow it to age particularly well.
HISTORY
The maritime environment of the Carneros grape-growing region delivers cool, foggy mornings followed by warm days that slowly nurture ripening. This seaside influence is particularly acute at our Poseidon Vineyard; one can see the masts of boats bobbing in the water just a few steps to the south. The prominent feature of our vineyard is the gravelly, geological "Bench"—the elevated, rocky, former riverbank of Carneros Creek—that runs serpentine through the center of the site. From this unique geological feature spring some of our most distinct, small-production wines.
VINTAGE
As the impact of the 2011-2017 drought continued to fade, the growing season was characterized by moderate temperatures. Fruit development was gradual, without stress, and uniform. But as harvest got underway, temperatures varied dramatically, creating a nerve-wracking stop-start, wait-versus-race dynamic for the crews and cellar. Attention and experience in the vineyard proved critical during this stretch. While wildfires created havoc in other parts of the state, the Poseidon Vineyard was entirely unaffected. The harvest was one of the most generous and flavorful crops in recent memory.
WINEMAKING
The three sections of this two-acre "Bench" are different clones, and they are harvested and fermented separately. Each year we eagerly anticipate how the different clones will taste. After several months in barrel, it was evident that in 2017 the clone 777 stood out. The wine made from this clone was highly aromatic, bright, lively and elegant. It seemed natural to reserve a few barrels for our special "Bench" blend of Pinot Noir. This wine was racked only once before bottling to maintain the pure fruit expression.
Alex Beloz, Winemaker
Varietal/Blend
100% Pinot Noir
Appellation
Los Carneros, Napa Valley
Harvest Date
Sept 27, 2018–Oct 12, 2018
Titratable Acidity
5.25 g/L
Aging
10 months in 20% New, Medium Toast Plus Kádár Barrels
Wine Profile
Year Planted
1973; Replanted in 1997