2019 Poseidon Vineyard "Sea Change" Chardonnay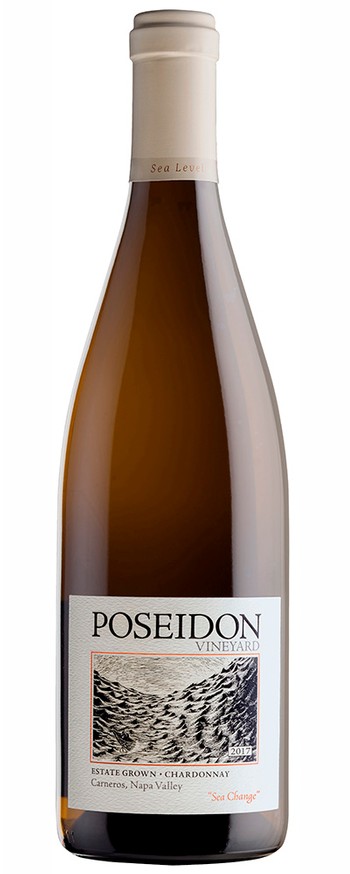 Wine Club Member Price: $32.30
TASTING NOTES
Our lightest, freshest, first-release-of-every vintage Chardonnay from Poseidon Vineyard always makes an impression with its energetic aromas of lime, grapefruit and a bit of apricot and guava. The mouthfeel is driven by the bright, edgy acidity that gives this wine its energy. Aromas are echoed by flavors of lime, lime zest and pomegranate. This wine tells you to eat—and we suggest fresh West Coast oysters.
HISTORY
With Sea Change Chardonnay, we offer a wine that embraces the natural acidity of our cool, windy, fog-bound vineyard by suppressing malolactic fermentation. Without this conversion of the grapes' malic acid (from malum, or "apple," in Latin) to the softer lactic ("milk") acid, the resulting wine retains a crisp snap and bright green apple character—a veritable Sea Change for Napa Chardonnay.
VINTAGE
The 2019 growing season got off to a wet and cool start, but a moderate summer allowed for normal vine development and a slightly above-average sized crop. As the summer progressed, the vines made up for some of their late start. A comfortable fall allowed for longer hang time, good fruit maturity and excellent flavor development. The harvest started with a leisurely pace and quickened at the start of October. As a precaution against wildfires, our cellar was in the power company's blackout zone, throwing the crew for a loop. But our outage was short, and proved harmless to the ongoing fermentations—it was one of the few sources of anxiety in an otherwise textbook season.
WINEMAKING
The fruit was harvested by hand in mid-September when we felt acidity was at its peak. The grapes were pressed whole-cluster into a stainless steel tank to preserve freshness, then allowed to settle and ferment. After fermentation, the wine rested for a period on its lees to allow for flavor integration and add suppleness to the texture. Because we are going for a more crisp, tart-style Chardonnay with Sea Change, we suspended malolactic fermentation, then put the wine into neutral Kádár barrels where it rested for before bottling.
Alex Beloz, Winemaker
Varietal/Blend
100% Chardonnay
Appellation
Los Carneros, Napa Valley
Harvest Date
September 6, 2019
Titratable Acidity
6.9 g/L
Aging
1 month in Stainless Steel, 2 months in Neutral Kádár Barrels
Wine Profile
Year Planted
1973; Replanted in 1997