Obsidiware Gray-Black Bowl #6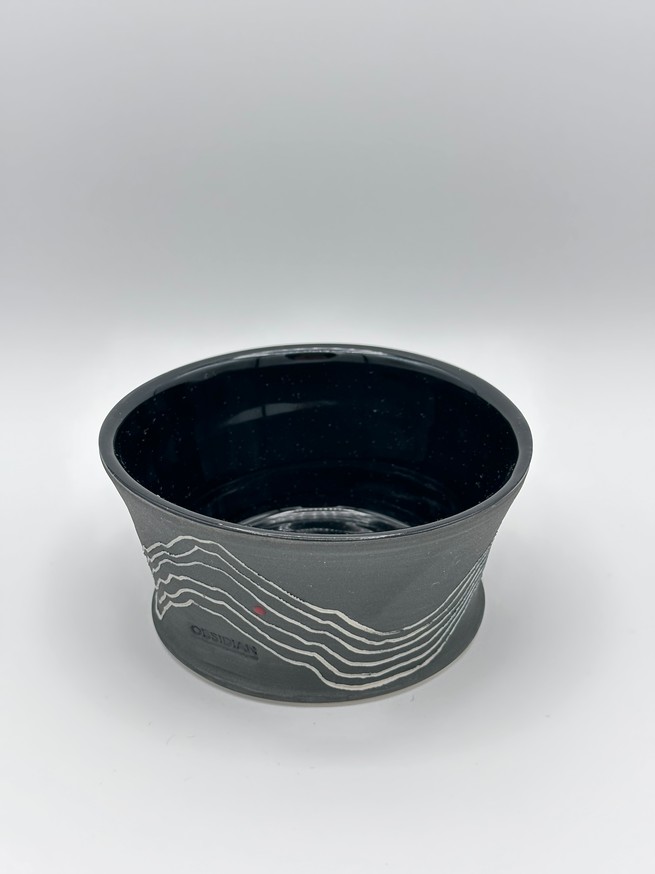 Introducing Obsidiware - handmade porcelain by potter Jess Parker.
Can you ever have enough small bowls? Obsidiware is usable art, perfect for soup, cereal, fruit, or as we do in our tasting room, for serving crackers and nuts.
This small bowl is made of porcelain clay and covered with an underglaze while leather-hard. Jess then handcarves into the pot to reveal white porcelain topographic lines of Obsidian Ridge. A red glaze dot to mark the spot is applied before the final glaze firing.
Obsidiware pots have been made of a place, for a purpose, rooted in form and function. Enjoy your distinctive Obsidiware pot.
Approximately 2.5" tall, 4.25" wide. This unique piece is matte gray on the outside, glazed black on the inside.
Jess Parker has worked in clay since 1992. She currently makes pots at her home studio in Berkeley, CA, where she lives with her husband, Peter Molnar, and their husky-mix Jericho. She teaches adult ceramic classes, workshops and has exhibited her work internationally. She also owns her own stand up paddleboard company, 510-Waterline in Richmond, CA, and teaches weekly yoga practices with the Willard Park Yoga Collective. jesspots.com