Campers: Douglas Thompson, Mary Rogers, Peter Molnar, Phil Mooney, Peace & Plenty Farms, Clos Racine, & Friends
Dates: October 8-9, 2022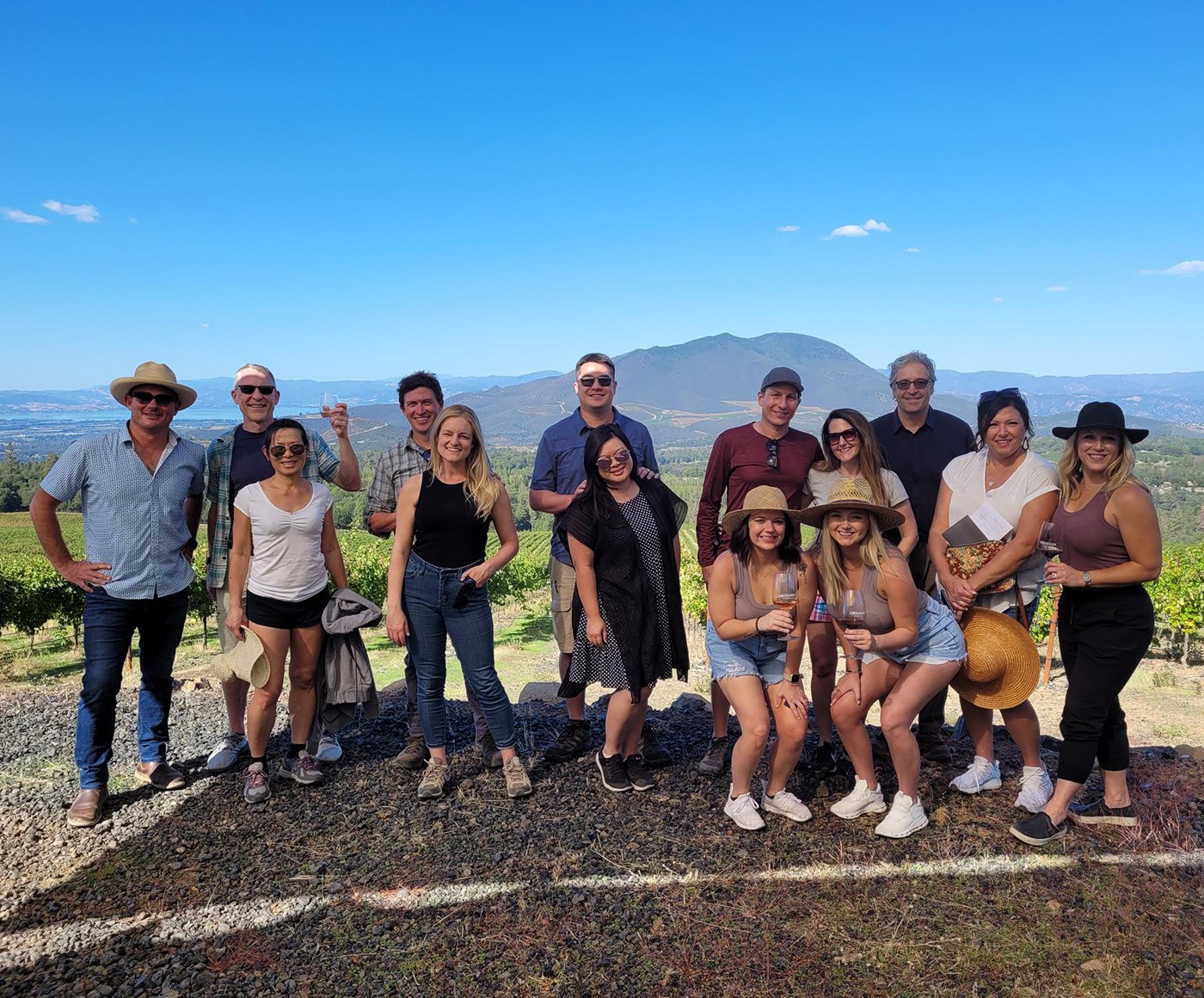 Wine, Food, and the Elements:
Our First Adventure Camp Creates Lasting Bonds
At Obsidian, we love to share our work – and it's more than just great wines. It also includes outdoor adventure (sun, exercise, the micro-climates of our home), great food, and the process of how our wines are made. We love offering our wine adventures, and for a few years now, we've been planning experiences in which we bring Obsidian to you. Unfortunately, the pandemic put a hold on that.
But a few weeks ago, on October 8 and 9, we held our first Adventure Camp at Clear Lake, the location of our high-elevation Obsidian Ridge Vineyard two hours north of San Francisco. Ten game participants – some from the Bay Area, some from Los Angeles, some from the Midwest – took part in the two-day excursion dedicated to education about wines, experiencing the rich landscape, and – our favorite – "sitting around a table, eating delicious food, feeling toasty over great wine, having great conversations, and building friendships." If that doesn't spell the perfect adventure camp for adults, we don't know what does.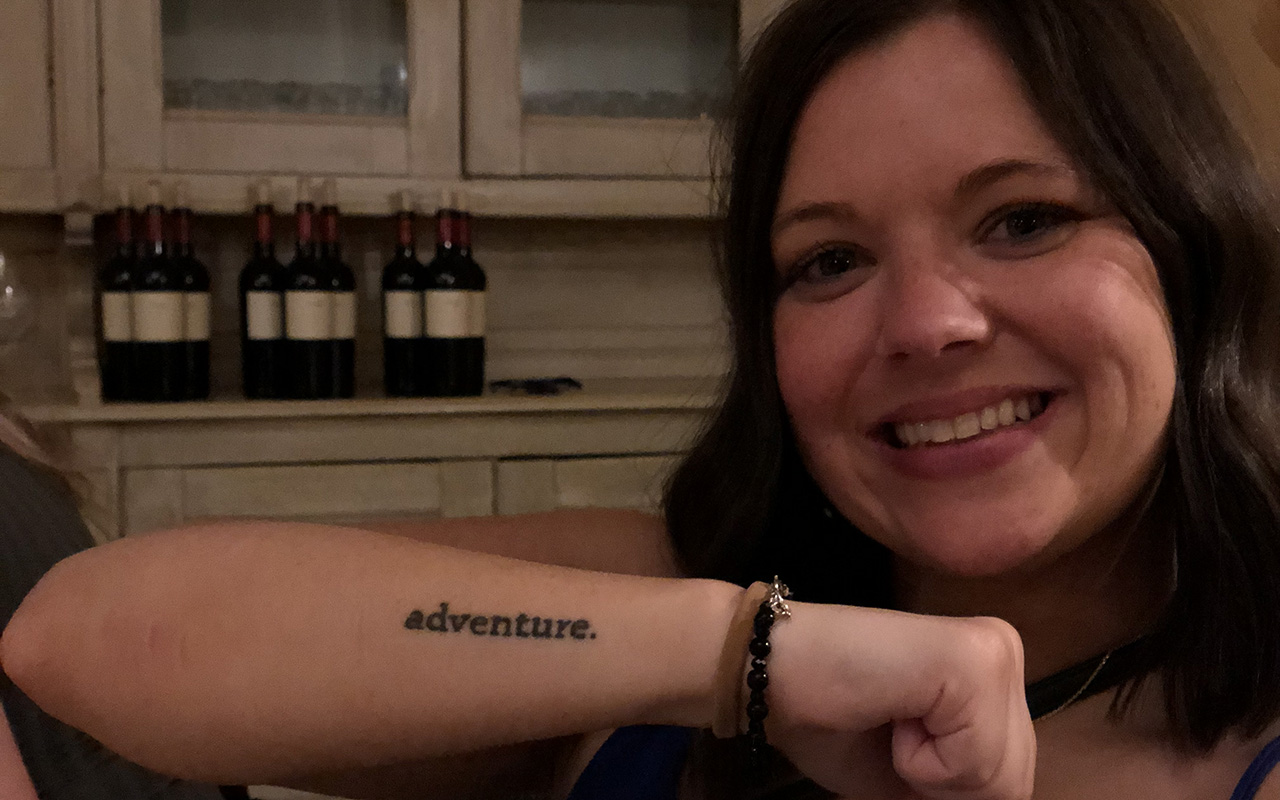 "We like to be outdoors," says Douglas Thompson, Obsidian's Experience Director who put together the camp with Customer Relations Director Mary Rogers. "We also like educational components to what we do. And we obviously like doing those things with wine. And with these experiential components, we can create this large tent to include everyone, whether they're super well-versed wine buyers or they're still learning what they like."
Day One
The camp started on Saturday morning with a visit to historic Peace & Plenty Farms, the largest saffron farm in North America. Campers gathered at 11 a.m. and took a tour of the farm before settling around hay bales, saw horses, blankets, and a large table overlooking the farm. Our campers got to know each other over a light lunch that included fresh ingredients from Peace & Plenty. And of course, there was wine.
"We had a light, refreshing wine-paired luncheon with our Rabbit Hole wines while you're literally looking at the gardens where the produce that's in your meal was grown," Thompson said. "Campers were kind of just dipping their toe into what this weekend would be."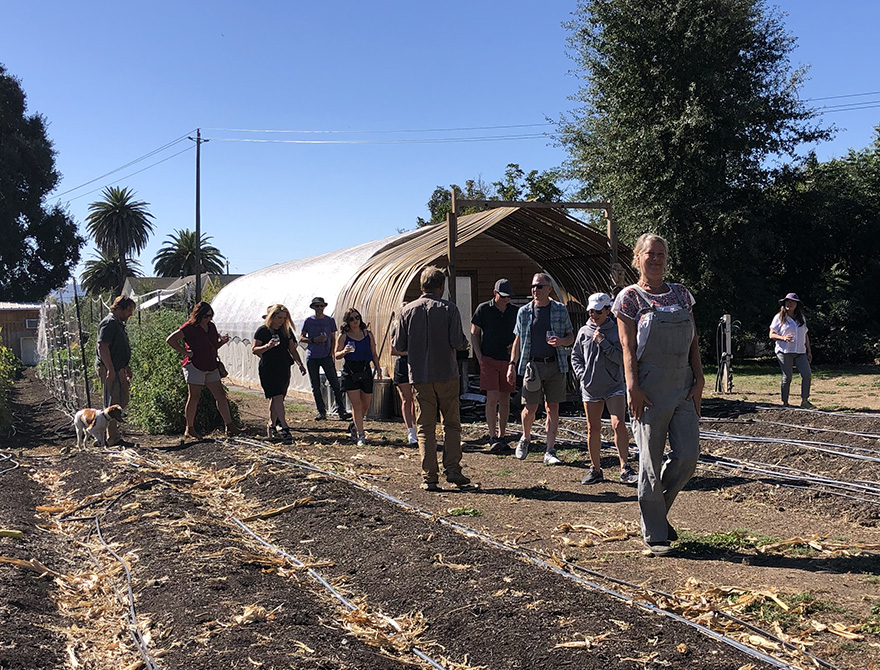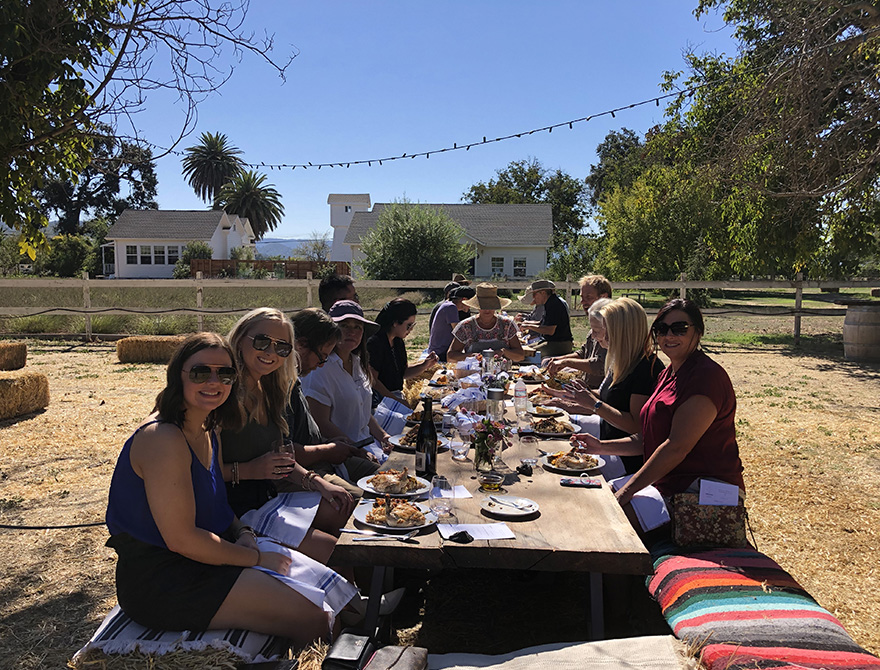 After checking in to the Tallman Hotel, which has been serving travelers since the late 1800s, the Campers gathered again at 4:30 p.m. in the hotel's Riffe's Meeting House. Obsidian co-founder Peter Molnar gave a presentation about Obsidian's Hungarian cooperage, where we make our barrels for aging fine wines. The barrels are 100-percent Hungarian oak that is sourced from a forest on a volcanic mountain range in northern Hungary. The extreme weather shifts and short growing seasons in the region produce in the oaks the tightest grain in all of Europe.
"Peter gave a really fun, anecdotally sprinkled, educationally based talk about oak and our cooperage," Thompson said, "as well as a little bit of our history, and he answered questions and gave sort of a baseline foundation for conversations that we would have that night and the next day."
After a quick break, Campers gathered in the hotel courtyard for a reception with Claudia Medina and Fabrice Caporal, owners of Clos Racines, a truffle orchard. Now in their fifth year, the pair spoke about their mid-life decision to leave behind successful careers to pursue a new dream.
"They had this wealth of experience and this passion for what they do, which was inspiring to hear," Thompson said.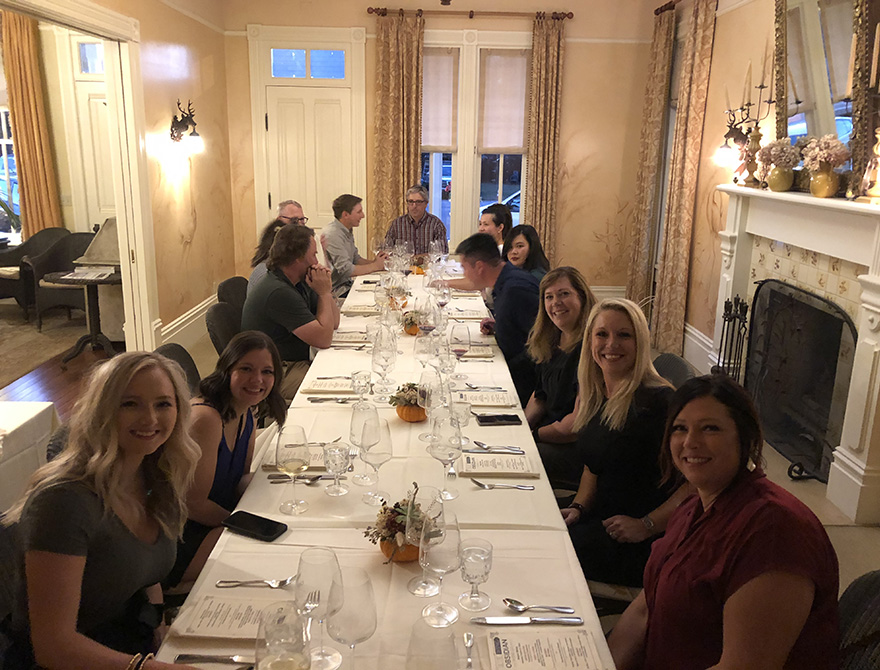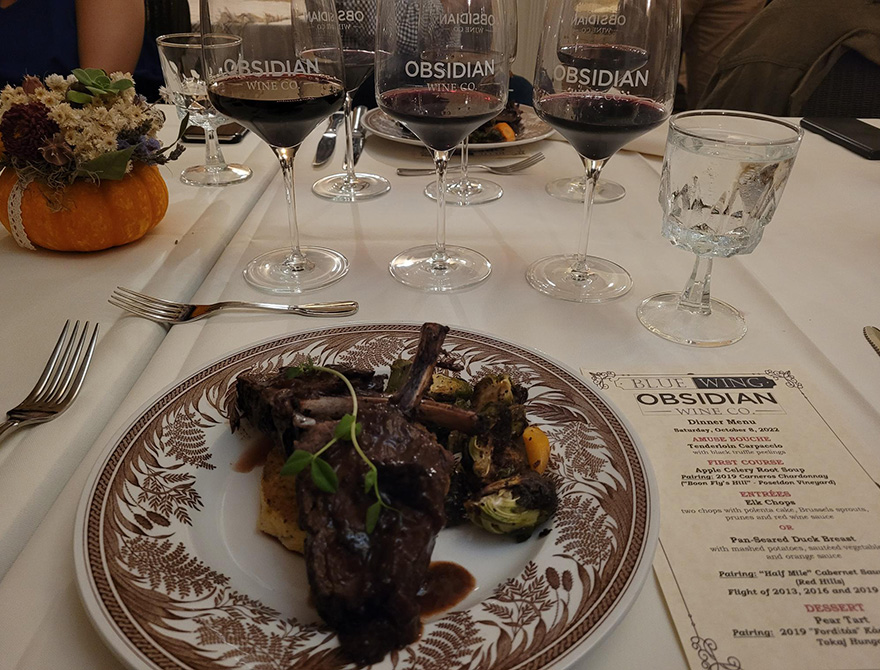 The climax of the night: a multicourse dinner by Blue Wing Saloon Restaurant featuring pan-seared duck breasts and elk chops as the entrees. It was paired perfectly with flights of Obsidian's Half Mile.
"We poured three pivotal vintages – 2013, 2016, and 2019," Thompson said. "It's probably the highlight of our wines that night."
Day Two
After a good night's sleep, our Adventure Campers met at the entrance to the Obsidian Ridge Vineyard, which climbs to nearly 3,000 feet in altitude and produces our Half Mile wines. The location is picturesque, with views of Clear Lake and Mount Konocti.
But it's the volcanic geology of the landscape that inspires Obsidian wines. Campers were given a splash of Half Mile for their trek to the vineyard, and they were met halfway by Dr. Phil Mooney, a geologist at Sonoma State University who acted as a geological tour guide for the Campers.
For 2.1 million years, shifting continental plates have shaped these mountain ranges of volcanoes, he explained. Mount Konocti last erupted about 10,000 years ago, and the ground at Obsidian Ridge is covered in obsidian glass.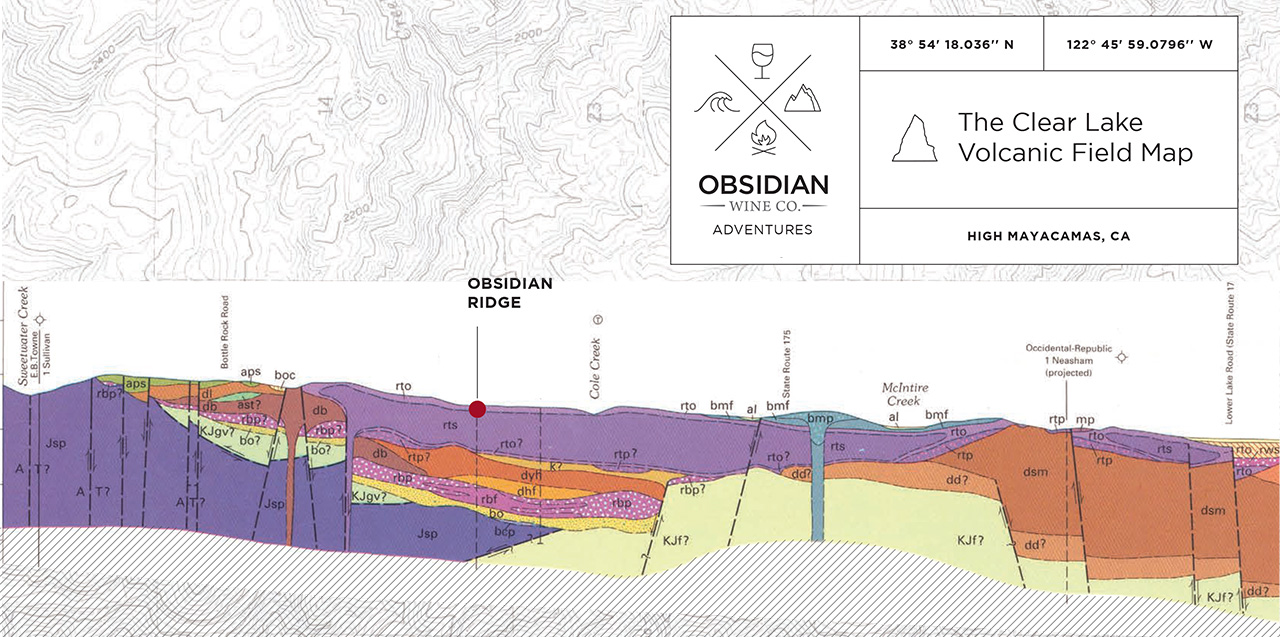 "The geology beneath your feet is layer upon layer of volcanic flows and volcanic asphalts and pyroclastic flows, on top of one another," Mooney says. "What makes it such a unique vineyard is how rugged the landscape is. It's a high elevation. They have some interesting weather extremes. And the geology is extreme. When you're walking through the vineyard, you're just seeing so many big chunks of obsidian. You're able to see a landscape that has been defined by volcanism."
It's in this way, through experiential learning, that Campers can truly understand the terroir from which our wine emerges – the life of the grape, the heat and cold and wet and dry elements that make it, all in a terrain defined by constant change. <
"And then you get to the top, and it's just an incredibly pleasant and beautiful location," Thompson said. "There was a perfect amount of shade that was coming from the tall trees, and it's quite a bit cooler at the top of the mountain."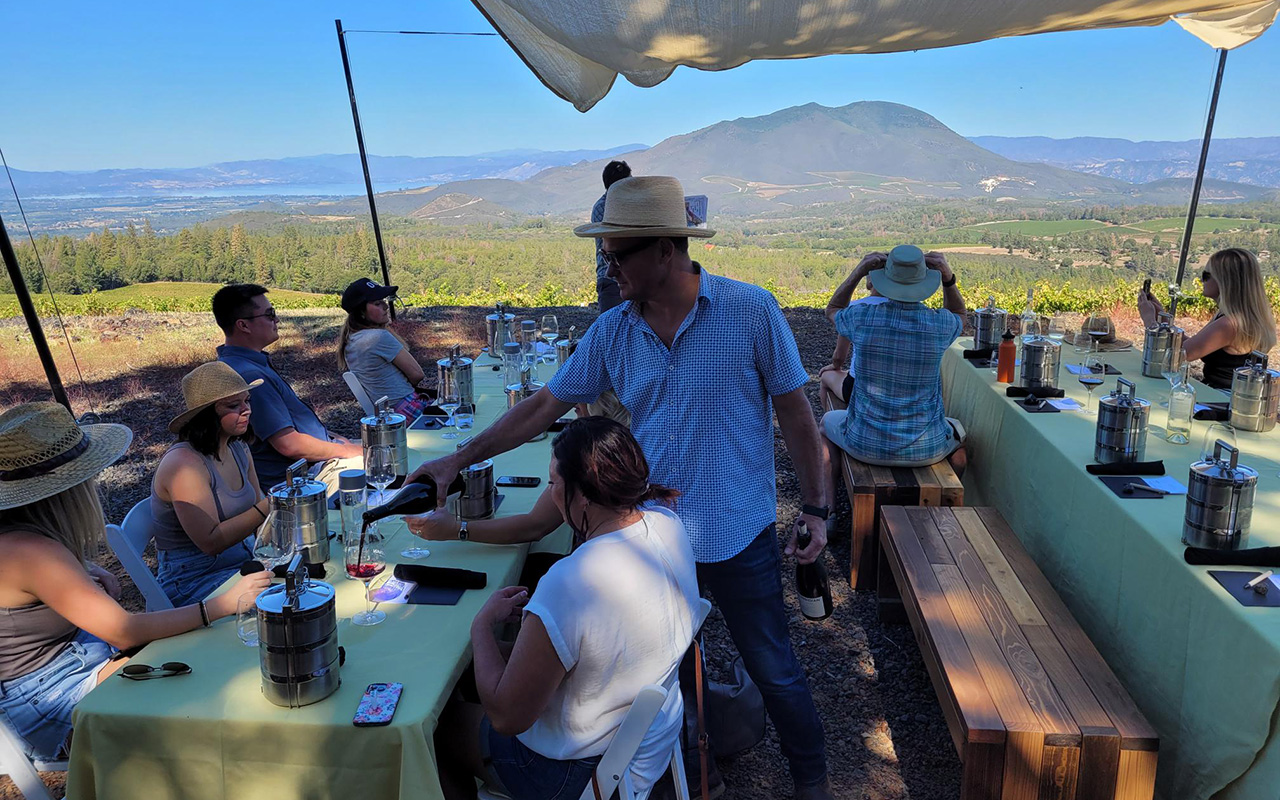 Lunch was served, including local grass-fed organic lamb meatballs, and the Campers were treated to a special pour of our 2019 The Leaf, a cabernet sauvignon from grapes grown on Obsidian Ridge.
"We hand-labeled just a few bottles for this event," Rogers said, "and it was the first time anyone outside of Obsidian had tasted the wine. The actual leaf that is on the label was found by Peter at Obsidian Ridge Vineyard after the 2015 fires in Lake County."
Saying Goodbye
Educated, exercised, and sated by food, wine, and the elements, the Adventure Campers then planned their trips home. But not before promising to stay in touch and perhaps take another adventure together soon.
"The thing that stuck with me was how much it was like a children's camp," says Thompson. "Like, everybody's a little nervous in the beginning. But then they get a little experience together. And then everybody gets ready for dinner and changes their clothes, and soon they're complimenting each other and they're engaging. And then the conversations abound.
"By the end of camp, they're like, 'I wanna do this for the rest of my life, and you're my best friend. When can we do this again?' And that it absolutely had that trajectory."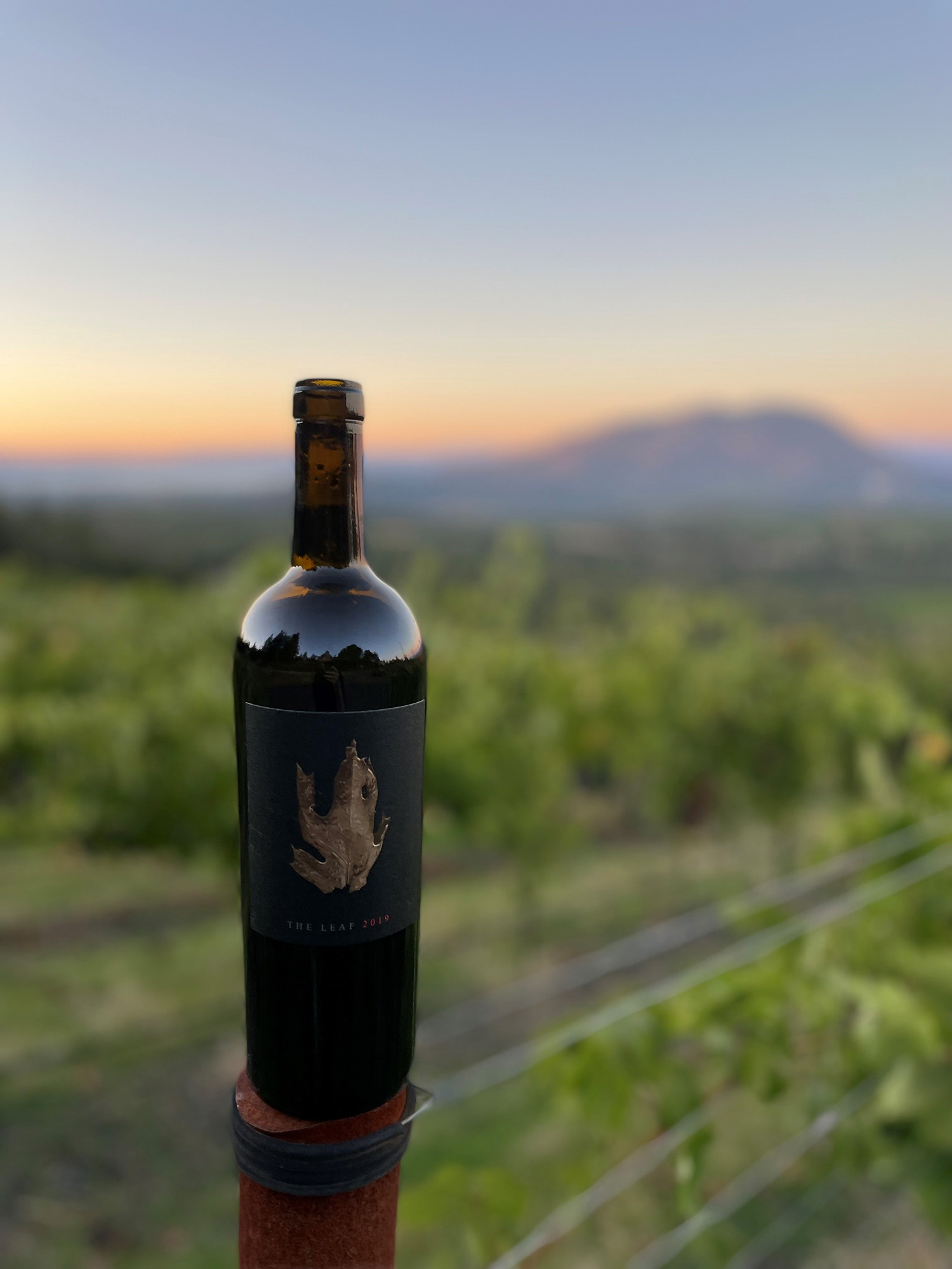 ---