Adventure Journal

2022 INTERMOUNTAIN WEST WINTER TOUR
Travelers: The Molnar Siblings
Dates on the road: Feb 2 to Feb 23, 2022
States Covered: Utah, Idaho, and Montana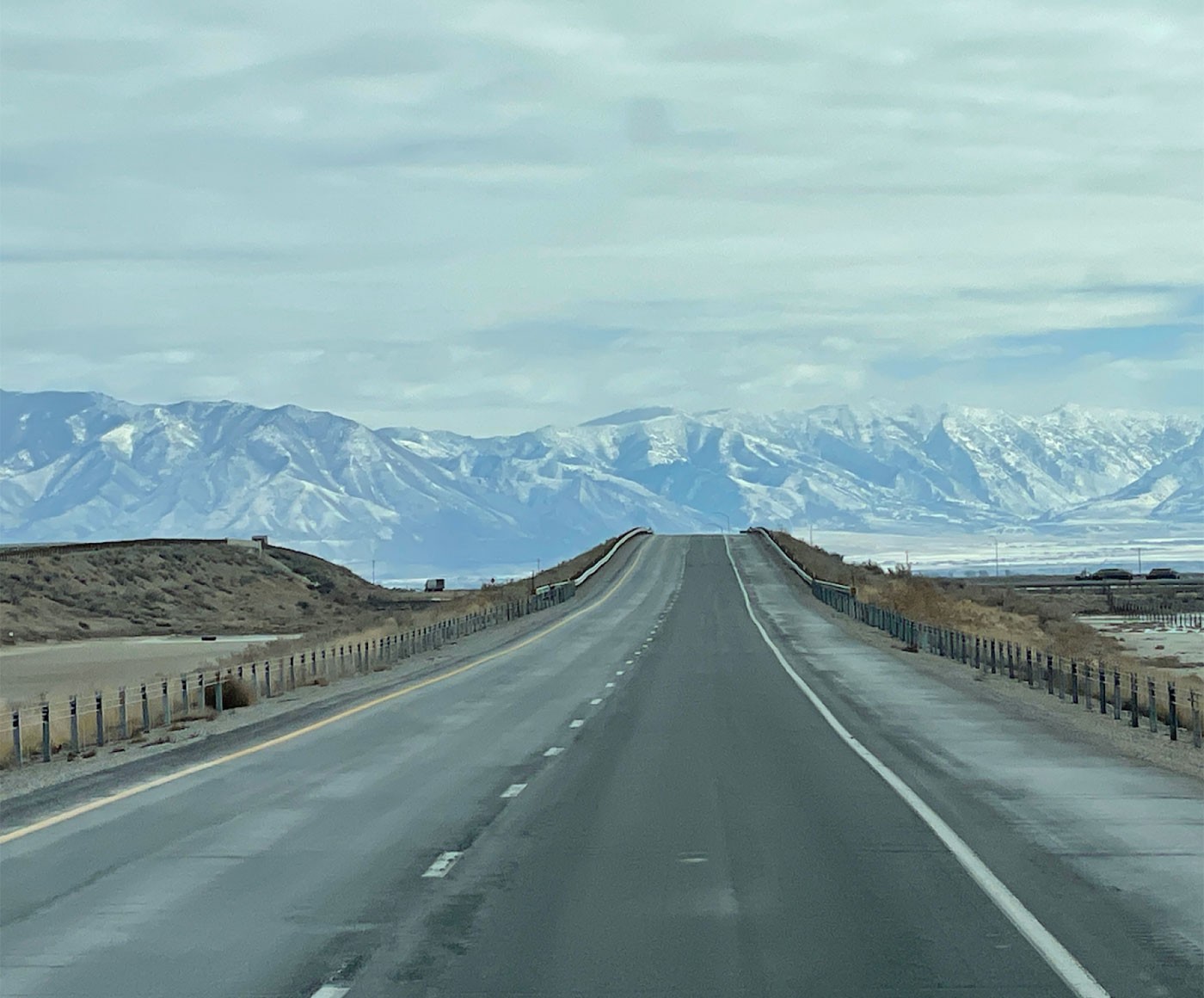 It was our first adventure in two years. The Covid-19 pandemic had kept us quarantined at home with our closest family, but away from the family members and friends and community that we held dear. Peter, our co-founder, put it best when he said the purpose of wine is to get friends and new acquaintances around a table, chatting, getting to know each other, being a part of something more.
Two years since we had done that.
And so that was one of the missions of our 2022 Intermountain West Tour, a 3,000-plus-mile journey through Nevada, Utah, and Montana. It was also a family reunion, of sorts. Siblings Peter, Arpad, and Aniko would meet at Snowbird outside of Salt Lake City for some skiing — 45 years after their parents had first taken them there, and just a month after their father, Nicholas Molnar, an "unsung hero" in the history of the Napa Valley wines, passed away.
Obsidian co-founder Arpad took the first leg of the journey, forging eastward in the Obsidivan from San Francisco into the mountain passes through Nevada and Utah. Peter and Aniko took the wheel of the Obsidivan from Utah into Montana.
Along the way, they got people around the table to enjoy wine, good food, and camaraderie.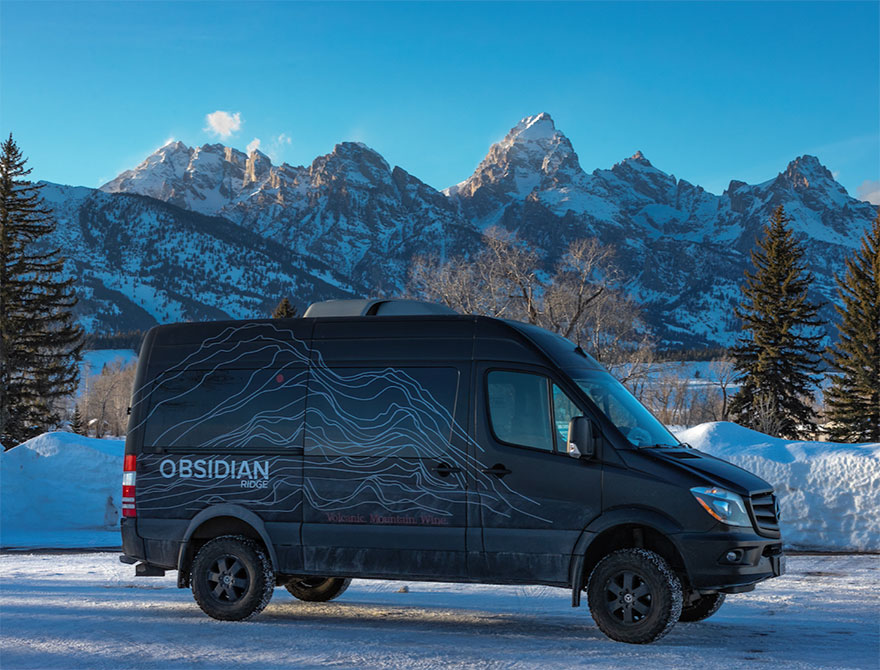 Behold the Obsidivan, the modern-day horse for the Obsidian Ridge gang.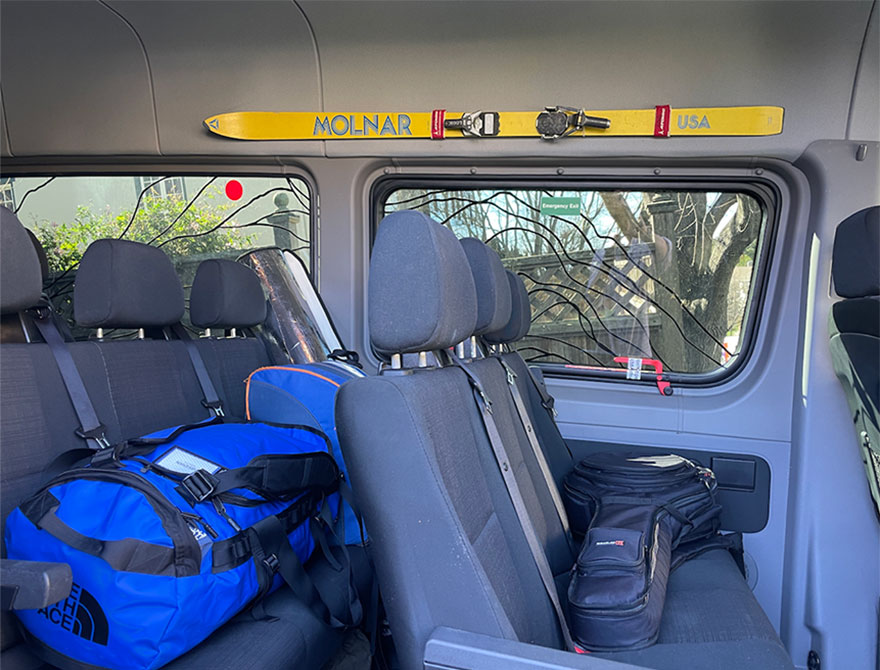 The Obsidivan was stocked with Molnar skis, Arpad's banjo, and other essential gear.
Basque Country … in Nevada?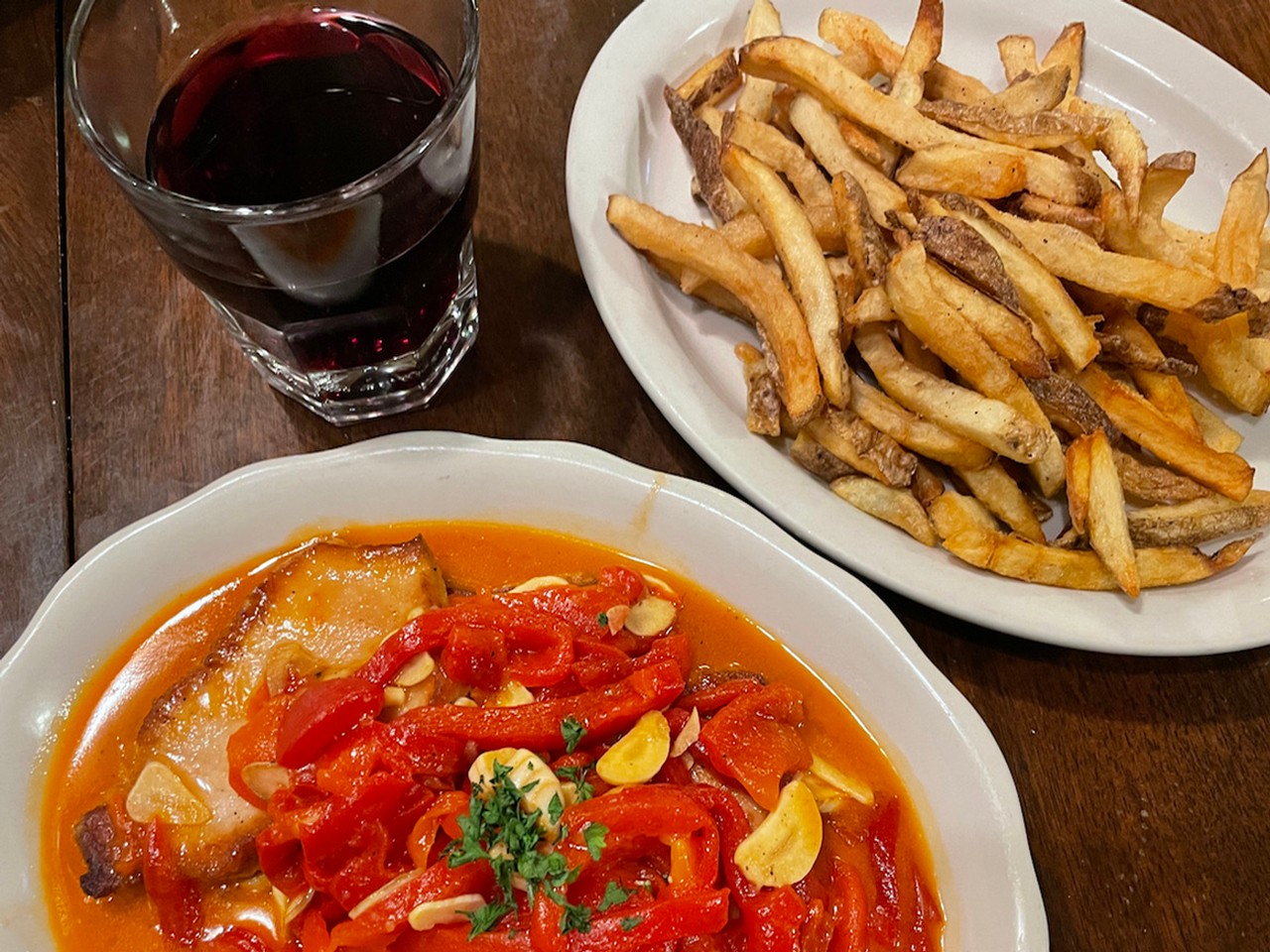 "When you travel across Nevada and you go to Winnemukka or Elko, there's this really amazing Basque tradition and Basque food that's still alive and vibrant," says Arpad.
One example: the Martin Hotel in Winnemucca, which opened in 1898.
"It's right next to railroad tracks," Arpad says, "rough on the outside and warm on the inside. The food sizes are ginormous. This isn't fancy. It's just great, hearty, really amazing food done in family style."
And there's plenty of wine!
"A lot of people don't know it, but Nevada's mountains are drop-dead gorgeous," says Arpad.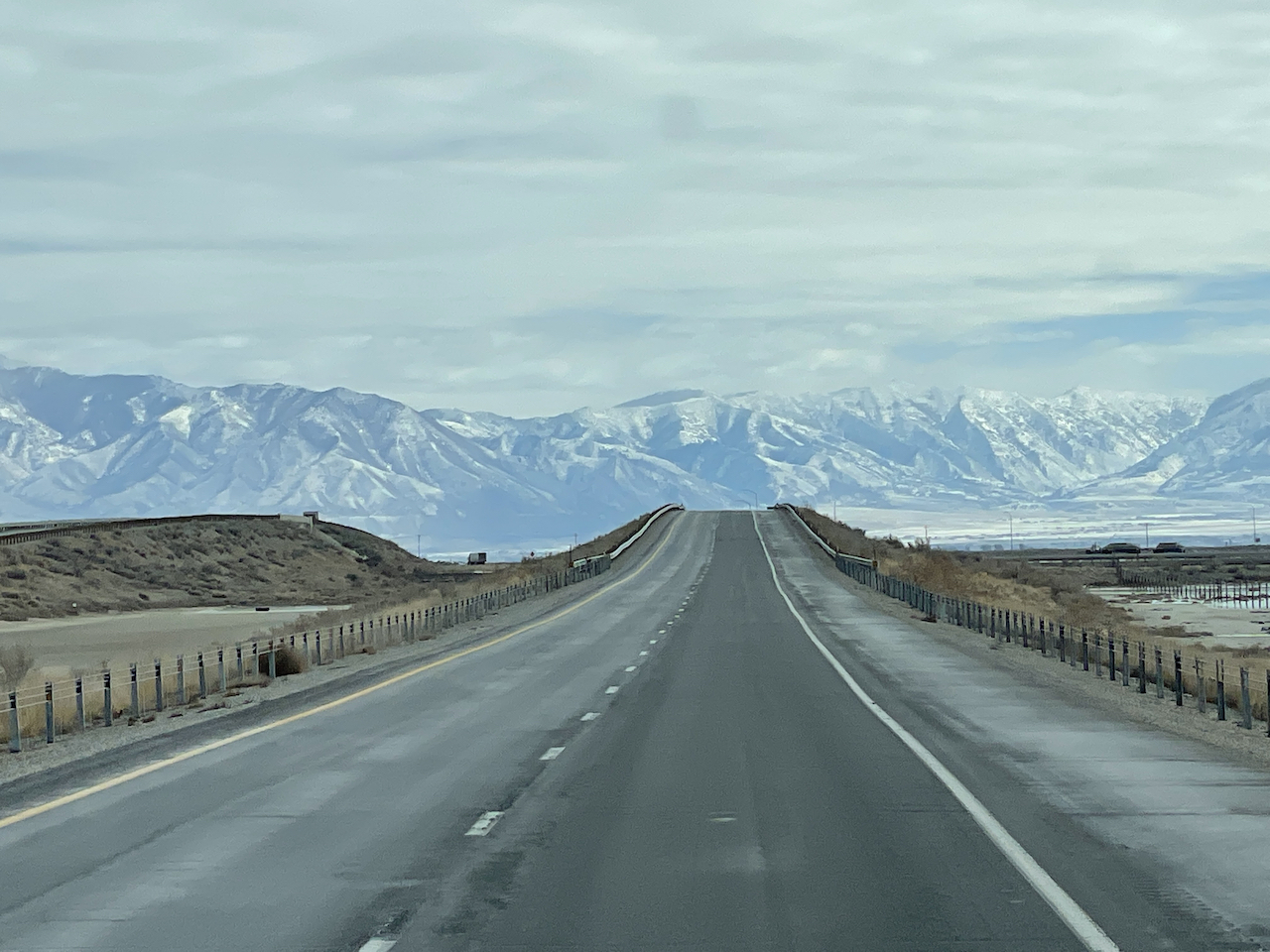 A rare treat on the journey to Utah: the 12-hour drive across windsweptNevada and the salt flats of Utah.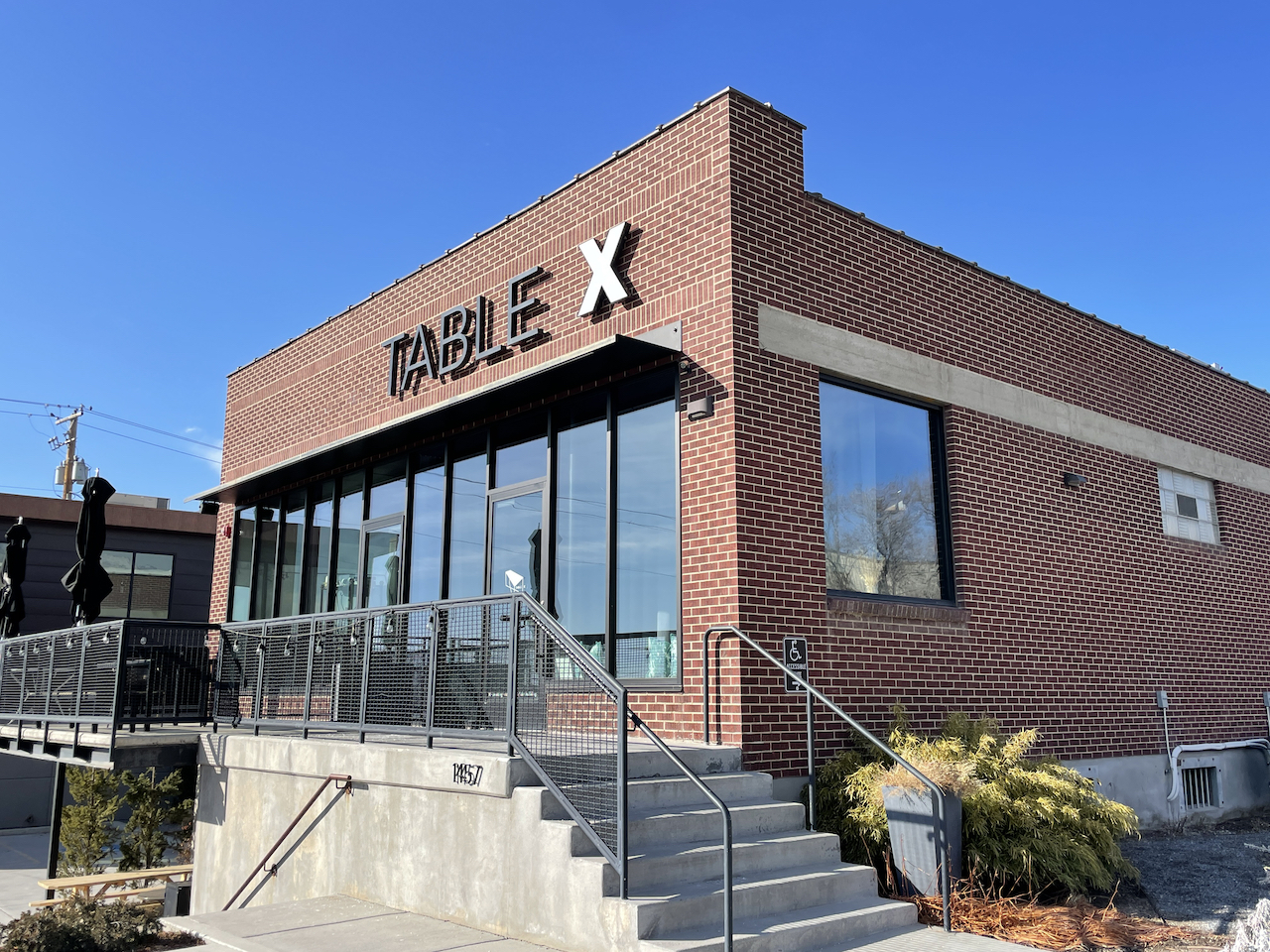 Salt Lake City is bustling these days, with plenty of great places to explore. When you journey there, don't miss Table X in Salt Lake City for clean, innovative food … plus, good light and pretty views.
"As kids traveling with our parents, our destination was always the ski areas Alta or Snowbird, in Little Cottonwood Canyon, just east of Salt Lake City in the Wasatch Mountain Range," Arpad says.
"My dad and mom loved a road trip," says Peter. "We made sandwiches in the morning before we set out, because back then there weren't a lot of amenities along the way."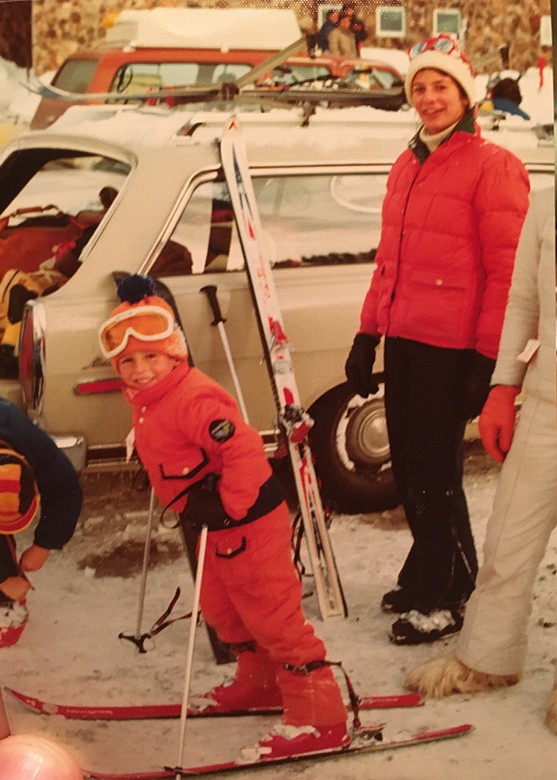 Here's an early picture of the Molnar kids, in the Alta parking lot in 1976. Arpad is the one with a big smile, his Snowbird patch already stitched onto his orange jacket. Brother Peter is buckling his boots, and sister Aniko and mother (complete with Chewbacca boots) look on.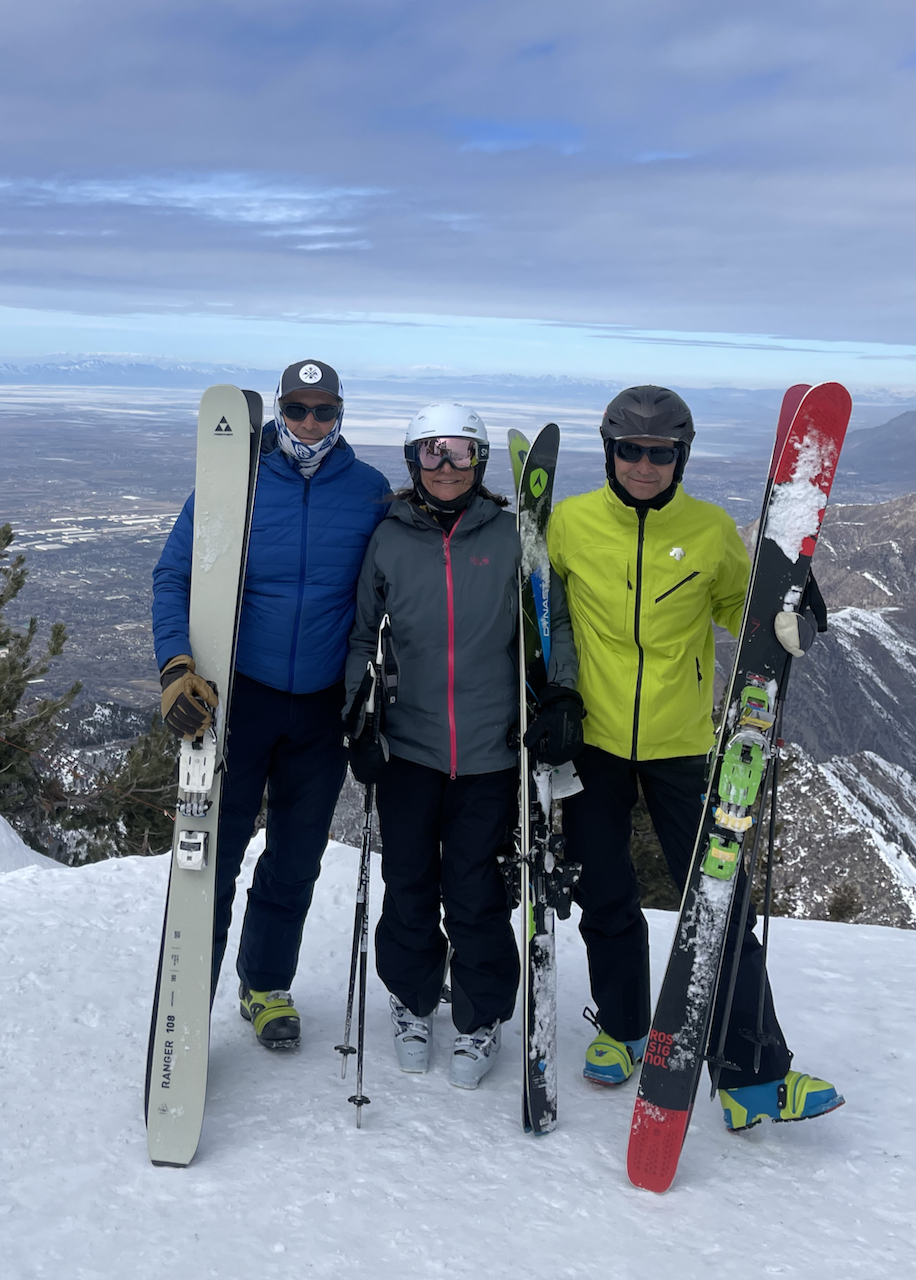 Nearly half a century after first skiing Snowbird, the Molnar gang returns.
Over the past four-plus decades, skiing has truly changed in the West. Once a rugged adventure (no grooming, leaky jackets, or itchy wool), it's now a bit more "tame" … and well-heeled, with luxury resorts redefining what it means to "go to the mountains".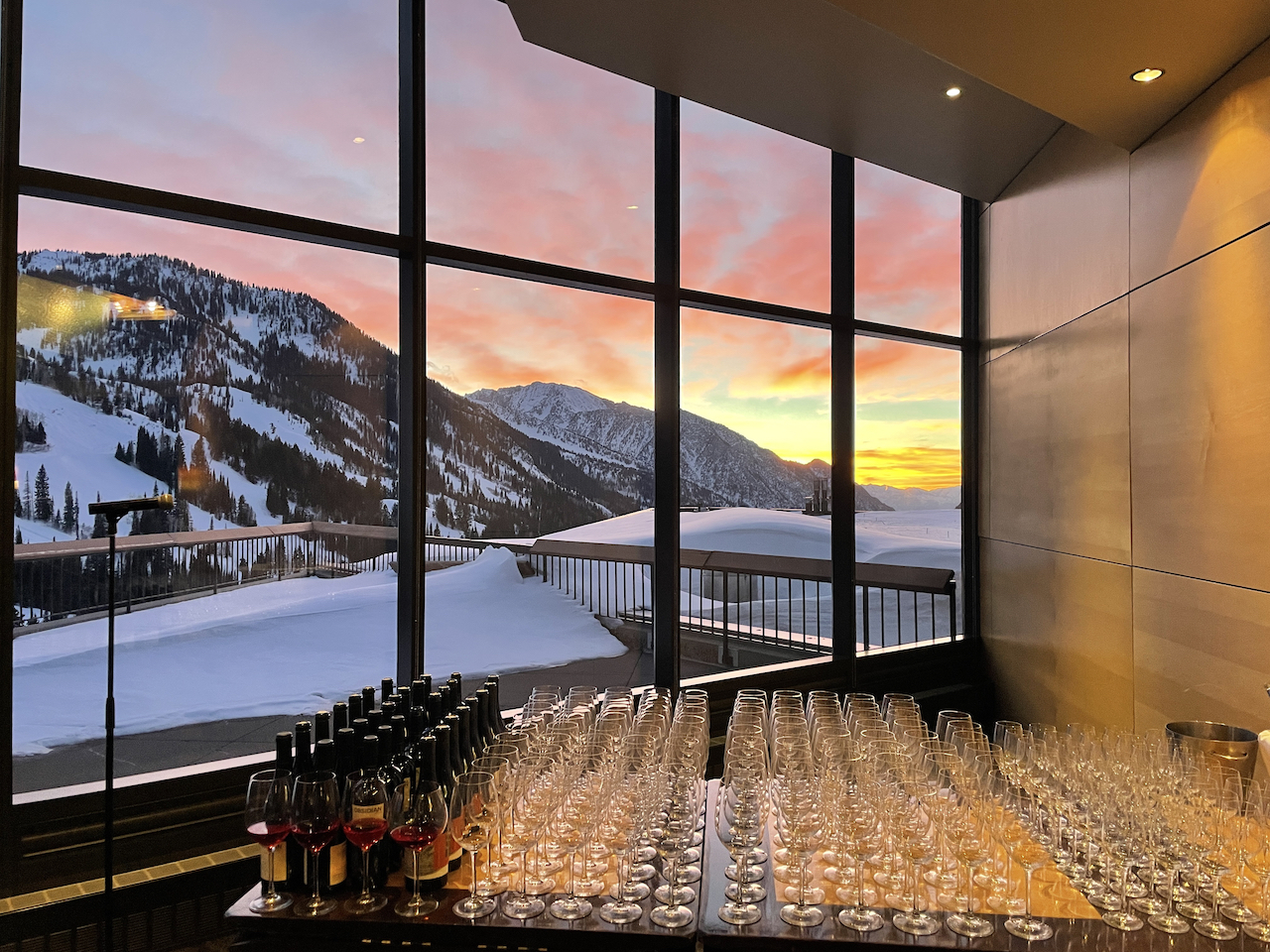 Snowbird is still a top skiing destination. Arpad held a winemaker pairing dinner at the picturesque Lodge at Snowbird.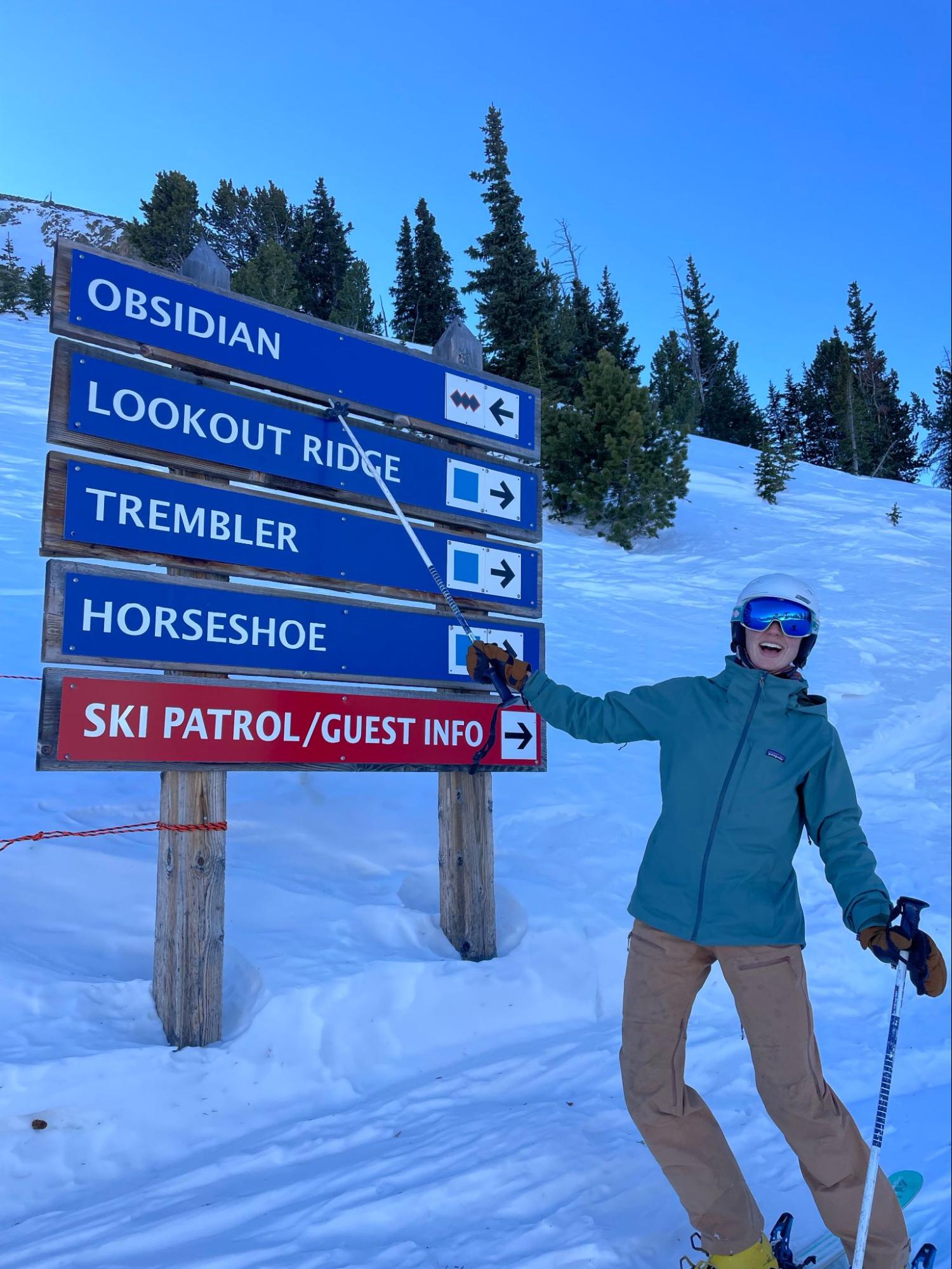 Aniko's daughter Kyla in Big Sky. (Follow the signs!)
And then Peter and Aniko took over, heading through Wyoming and Montana. "Skiing together as a family has always been a happy adventure," Peter says. "Skiing with buyers and Obsidian fans is just an extension of that adventure and fun."
Playing the Host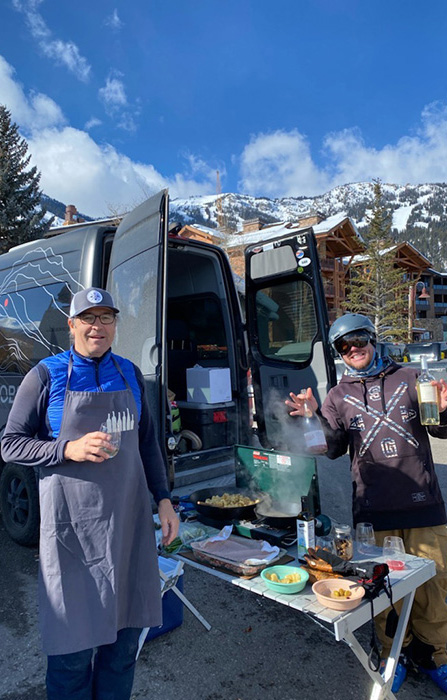 Another great feature of the Obsidivan...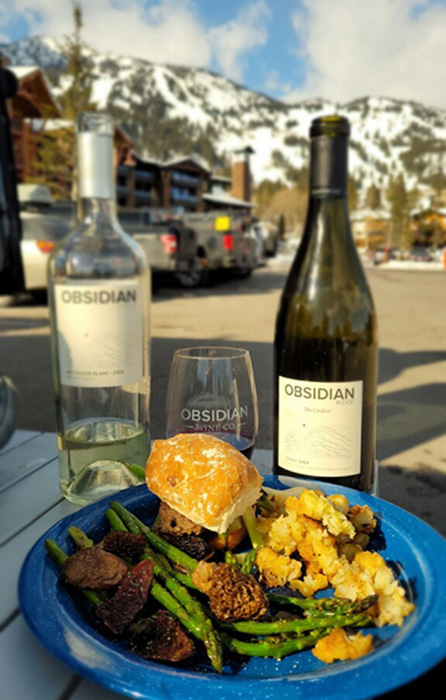 Lamb burgers on the grill!
"We always roll out with a Lodge wood grill, the Coleman double burner, a roll-up table, and a cutting board," says Peter. "It's all you need to make up some lamb burgers (sourced from a neighbor's ranch in Lake County) with veggies … and in this case tater tots with sage. "The whole intent of wine," Peter says, 'is to get people sharing a table, even a roll-up aluminum one."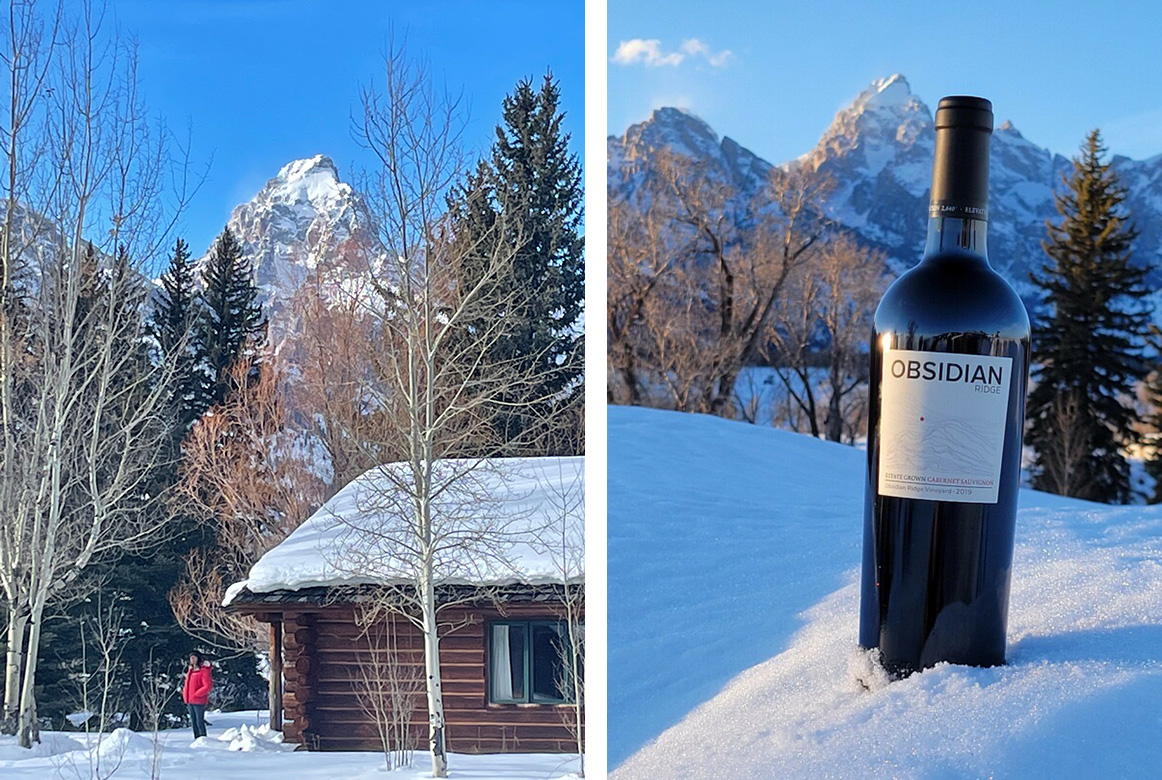 Peter and Aniko were invited to host a wine dinner at Dornan Lodge in Jackson Hole, Wyoming. The family-owned property, originally built in the 1920s, features eight one-bedroom and four two-bedroom cabins, and two restaurants, a grocery store and deli, gas pumps, and a gift shop.
"It's more than your usual lodge." Peter says. "Basically, they serve pizza and burgers in the summer. But it has the most insane views of the Tetons you've ever seen. And you wouldn't guess it, but they also have one of the best wine cellars in the Rockies, built by the family over three generations. It's an honor to have our wine served and sold at Dornan's."
The Last Best Place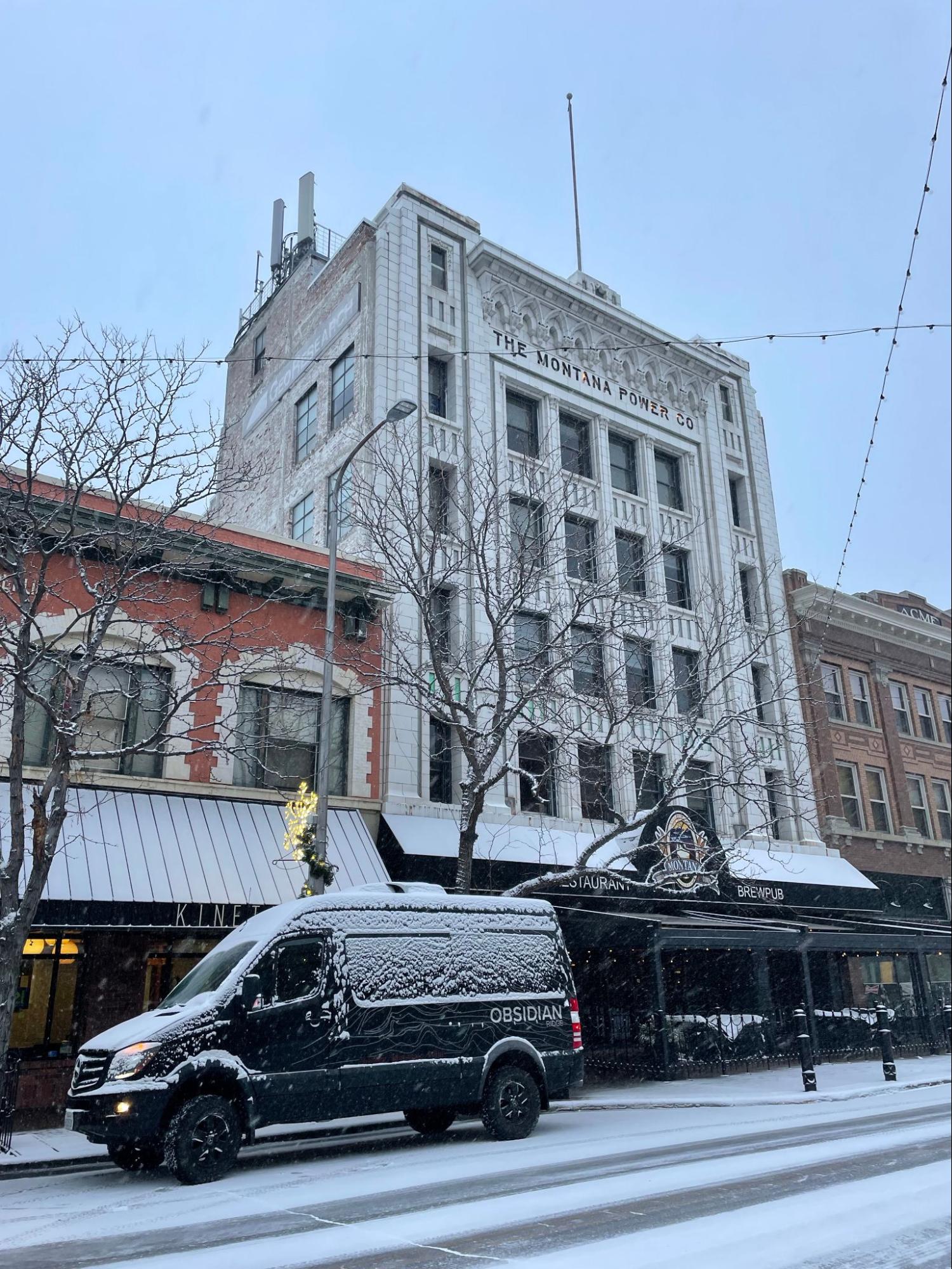 "Montana is a state of broad shoulders," Peter says. "My wife lived in the capital, Helena, when we first started dating. We rambled over many mountains. Some of the state has gotten pretty fancy, but much of it does feel like the Last Best Place."
Billings is a case in point – a city of cattle and oil. A new food scene is taking hold. It feels like Obsidian wines fit here.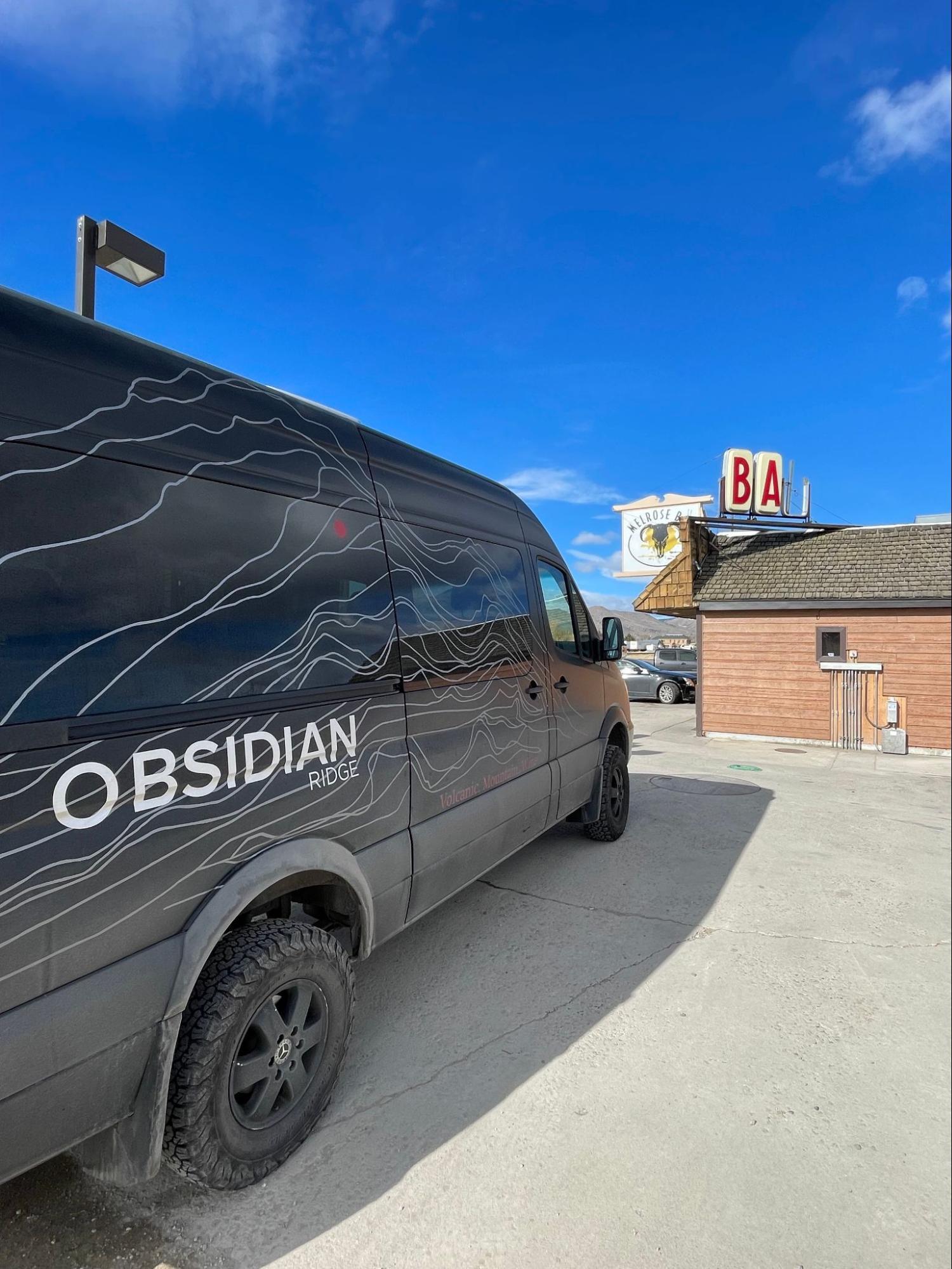 Heading home. But first, fueling up at the Melrose Bar & Station off Highway 15 in Butte, Montana. It's always surprising to stop in and find a great wine selection in the middle of nowhere. And there's plenty of wine!
"The whole intent of wine is to get people sharing a table." – Peter Molnar.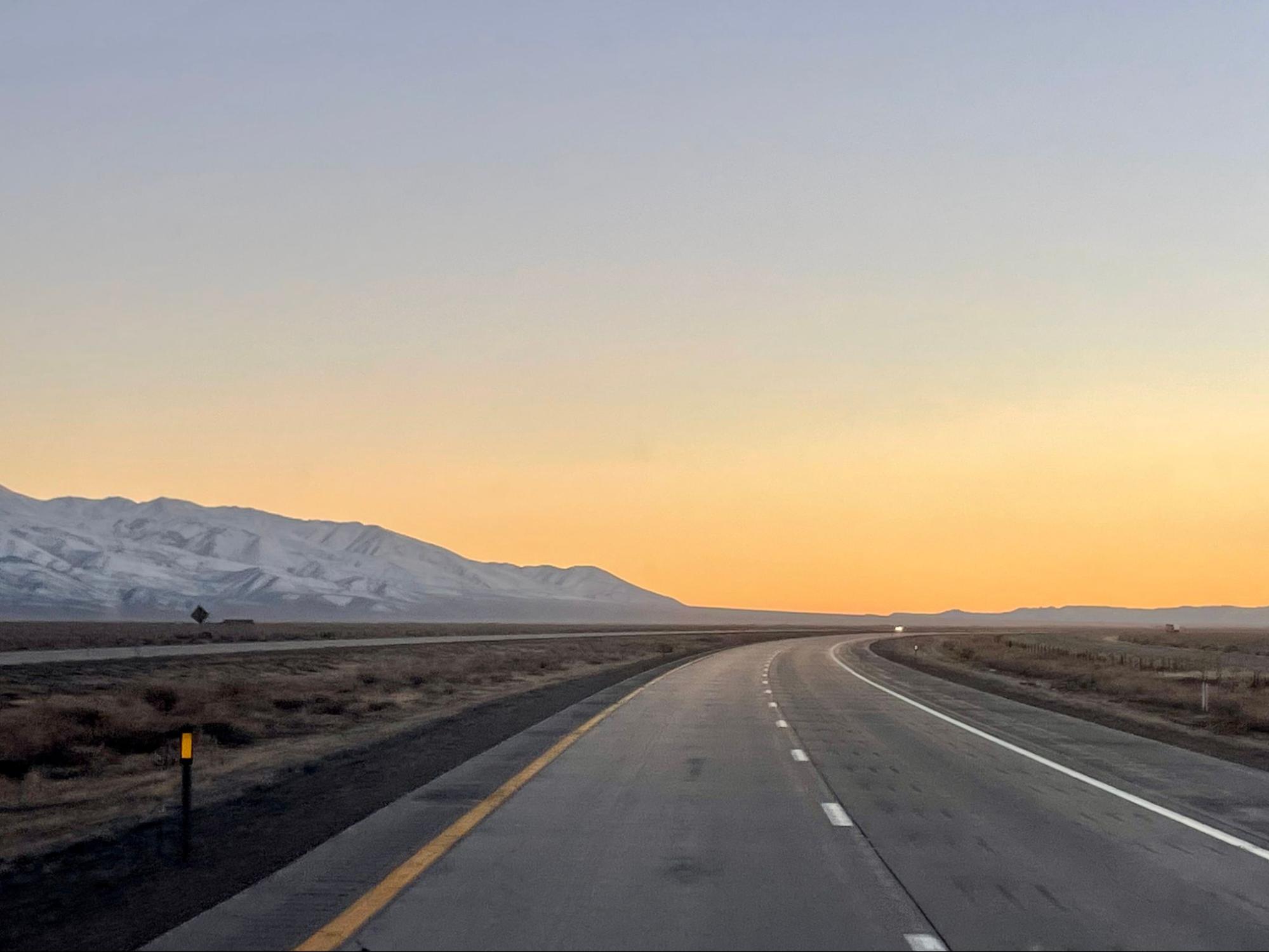 ---