Travelers: Corey Bunnewith, MS Walker team
Dates: July 2022
Location: Duxbury, MA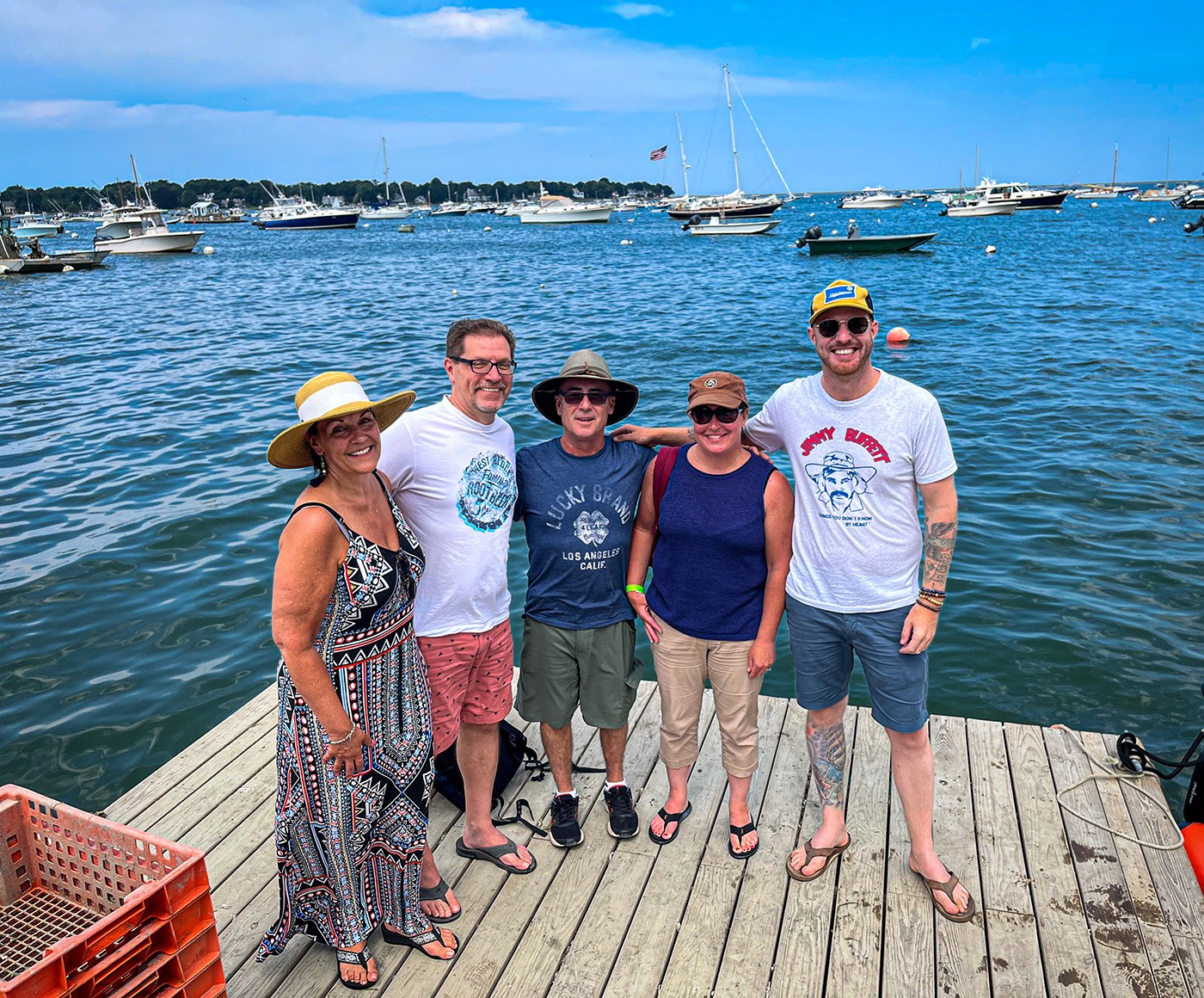 Our team at Obsidian might be located across the country, but we've got a lot of things in common from coast to coast. And if there's something that might be at the top of the list, a love of oysters could certainly be it. Which is why we paid homage to our east coast friends at Island Creek in Duxbury, MA with a recent visit. They have an incredible story, farm, and group of people to eat oysters and drink wine with.
Island Creek was founded by one of Corey's good friends, Skip Bennett, the son of a lobster fisherman who harvested his first oyster in Duxbury Bay not long after graduating college in 1995. Skip has a lot of similarities to us at Obsidian when it comes to farming on the extremes. He's gone from that first oyster that nobody thought would ever grow (let alone thrive in Duxbury Bay) to selling 18 million oysters in 2021. And not just any oysters – Island Creek oysters are served at top restaurants and are a favorite of critics. Skip believed in that bay, tucked on the Massachusetts coast nearly parallel to the tip of Cape Cod.
In short, we were excited to see the process by which the oysters came to be. After a rainout last year, we finally got our chance to go on an afternoon deep dive into the world of oysters with our friends at MS Walker, our wholesale partners in Massachusetts. We had a pitch-perfect New England summer day in Duxbury – 90 degrees, clear skies, and some beautiful breezes.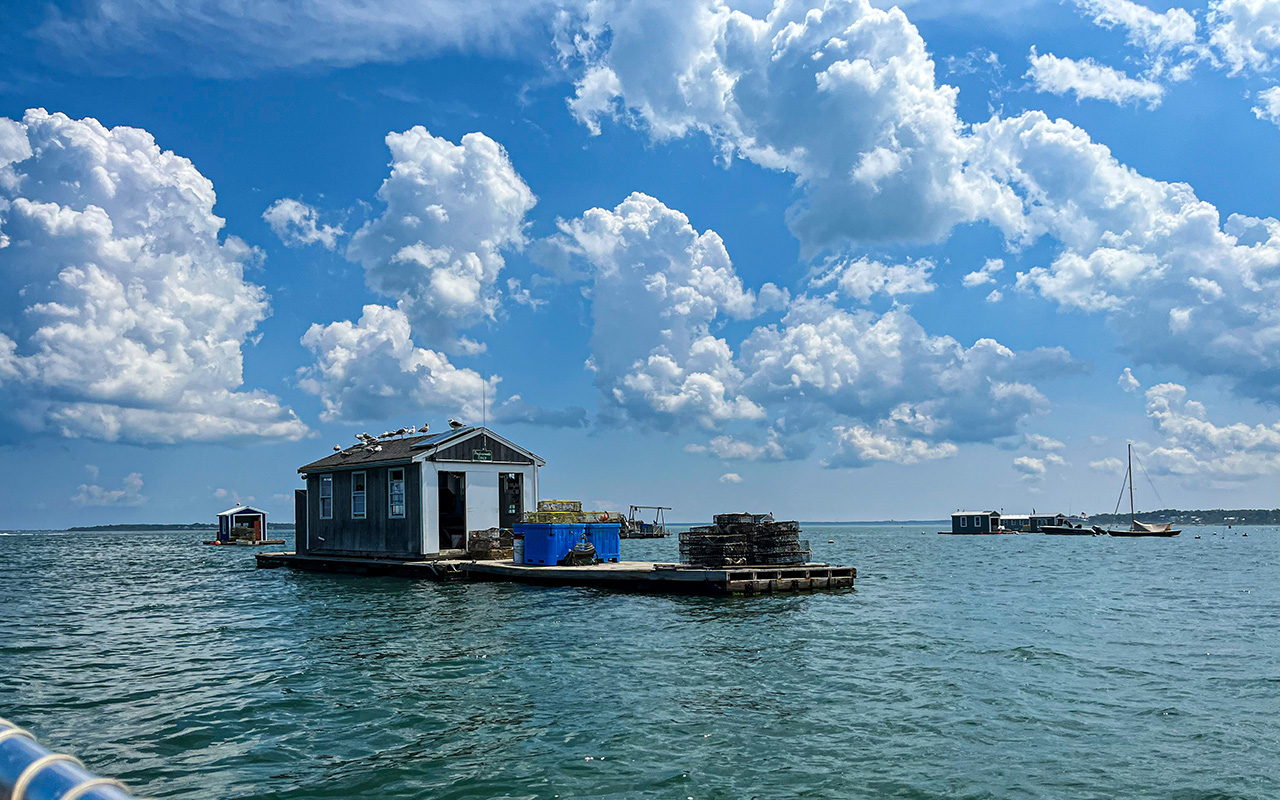 Island Creek Oysters, Duxbury, MA
We started our tour in the hatchery, a 100-percent female-run operation that is the life force of the operation. We saw the remarkable spectrum of eye-popping algae being cultivated for the oysters. This algae falls into three different categories: brown algae (Phaeophyceae), green algae (Chlorophyta), and red algae (Rhodophyta). It all leads to a well-balanced diet for oysters – and an incredible tasting oyster at the end. We saw the oyster broodstock, which is essentially the choosing of the top oysters to bring into the spawning stage. The entire hatchery is a sustainable and mostly manual operation that pulls water directly from Duxbury Bay and filters water directly back into the bay.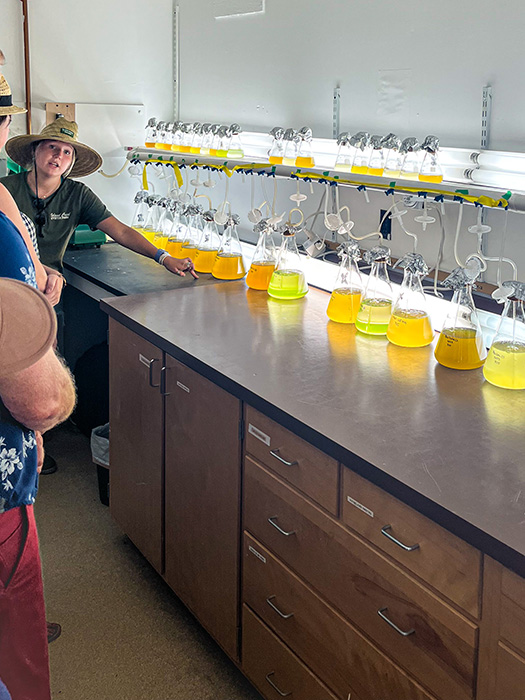 Hatchery1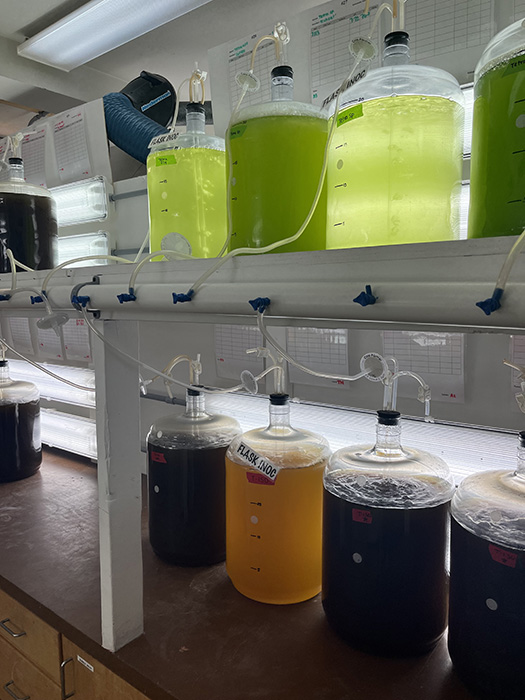 Hatchery2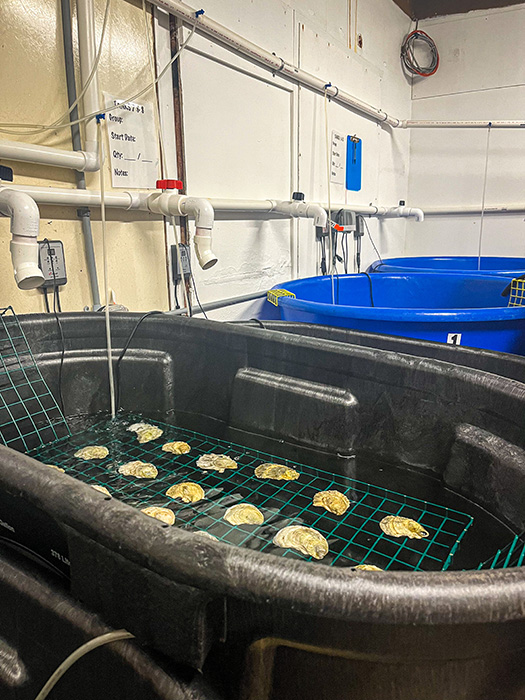 Hatchery3
Outside, we took some time to learn about the land-based upweller, which incubates more than 60,000 oysters at a time, bringing the seedling from the size of a pepper flake to an ocean-ready oyster over the course of months.
From there we walked down the dock to meet Captain Pete and our spiritual oyster guru, Johnny. We boarded the Nathaniel Winsor, Island Creek's 27-foot Carolina Skiff, and we headed out on the bay where Skip first believed in the cold water's magic and what it could do to oysters.
It was a lovely day of breezes and getting in touch with the natural settings that create so much for us – wine, oysters, and much more. We cruised, shucked oysters, and landed back at the farm's raw bar in plenty of time to enjoy the afternoon sun and some of our other favorite oyster wines. We opened a racy Txakolina Rosé with some crab sandwiches, as well as a mouth watering bottle of La Fruitière Muscadet Gneiss De Bel Abord – a Loire Valley gem that was a perfect pairing with the group's favorite oysters, The Aunt Dotty's, a deep-cupped, tray-grown gem that thrives in the flats off of Saquish.
If you make it to the coastline of Massachusetts, this is a must-do adventure on your list.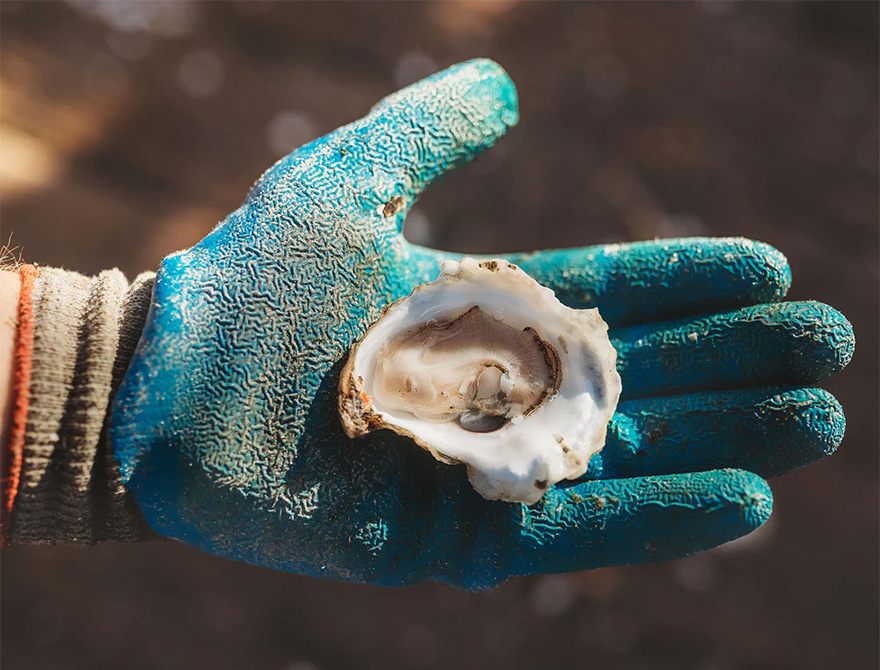 Team favorite: the Aunt Dotty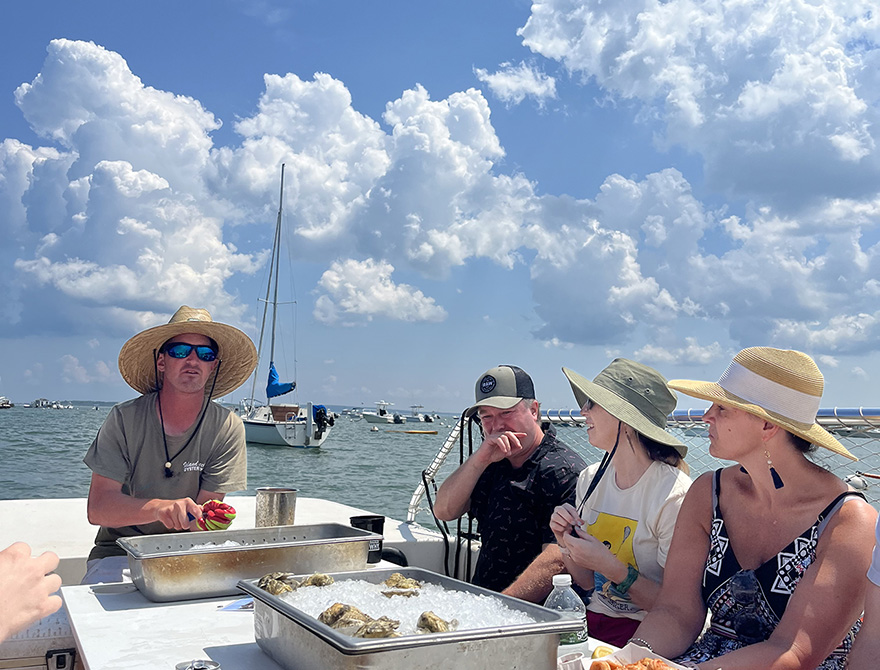 Oyster tasting at the source
---