---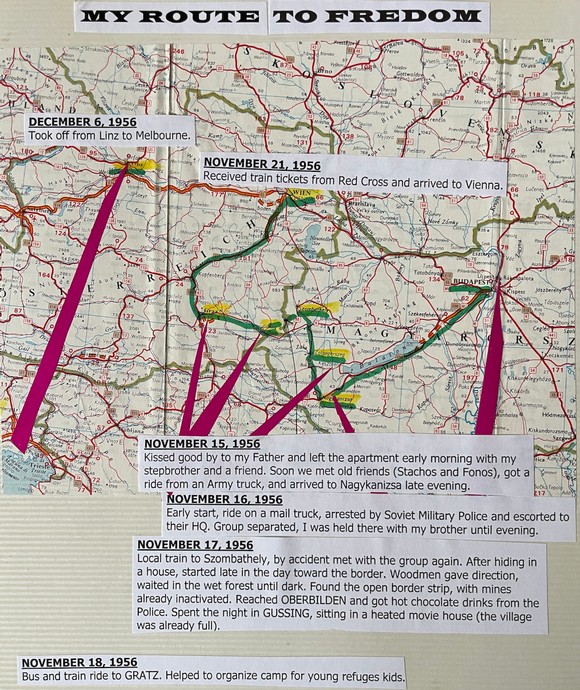 The tragedy unfolding in the Ukraine is deeply personal for us. Our Kádár Hungary cooperage wood mill is located in Erdöbénye, Hungary just 90km from the Ukrainian border. Our father and mother, Nicholas and Catherine Molnar escaped Hungary in October of 1956 as Soviet tanks rolled into Budapest. They settled in California as refugees.
On the left is the map – in his own hand – of our father's journey to freedom. Crucially, it highlights the aid he was given (in this case by the Red Cross) to make his new life a reality. He was helped by many along the way to settle into a new life, with new opportunity. Our father passed away very recently, and we can only imagine what he would have thought of the events unfolding today.
At the very core of Obsidian is care for nature & people. A portion of the proceeds of all Pezsgő sold this year will be donated to refugee relief funds, to help care for the more than 200,000 refugees to date who have already crossed into Hungary. Our aim is to raise and contribute a minimum of $25,000, with help from our partners and distributors.
We have chosen Save the Children as the recipient of our fundraising drive, at the recommendation of family members who are involved in refugee work and are familiar with their efforts to support Ukrainian families. We will be visiting Hungary and the cooperage in May and are actively working to identify organizations working on direct assistance to lend our support.
Please join our efforts by making a lasting contribution. On behalf of all who are displaced, we thank you deeply.
---