2015 Poseidon Vineyard "Boon Fly's Hill" Chardonnay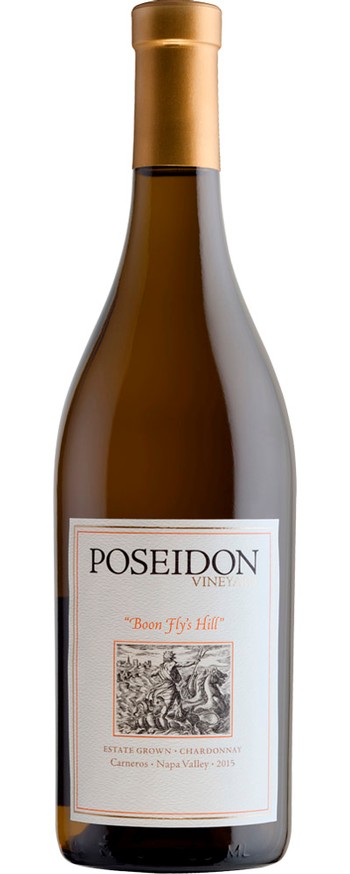 Wine Club Member Price: $46.75
TASTING NOTES
Tropical and exotic aromas, with a complex layer of guava, pineapple and preserved lemon rinds, flirt with a hint of peanut brittle and toffee. On the palate, the wine enters with an interesting marine-like salinity. Fruit flavors unfold with Meyer lemons, golden raisins and Golden Delicious apples. This wine is unique in its minerality and finishes with persistent acidity and fine oak char.
HISTORY
At our Poseidon Vineyard, originally planted in 1973, the maritime influence of the Carneros grape-growing season delivers cool, foggy mornings followed by warm days; ripening is nurtured slowly. Rising at the southernmost edge of the vineyard is the small, gravelly "Boon Fly′s Hill" that overlooks the Napa Valley Marina; boats bob in the water just a few steps away. Boon Fly was a colorful character from the early days of the settlement of Carneros; legend has it that he is buried somewhere on this hill. This two-acre block of vines consistently produces our most elegant and distinguished Chardonnay, and we honor that distinctiveness—and Boon Fly himself—with this reserve bottling.
VINTAGE
2015 was the earliest vintage on record across the state. Four consecutive years of drought led to significant stress on the vines. Luckily, our mature vineyards with deep roots not only survived—but thrived—through the heat of a late summer. Earlier on in spring, however, we had a cool period during bloom which hampered set in many areas. Our Pinot Noir was mainly affected, with cluster counts reduced and tint berry size, with some clusters growing only a couple of inches long. All this was great for quality but brutal on the yields and pocketbook. Our Chardonnay held strong with only slight reductions in crop. Quality was still high in our wines, despite the heat and we made excellent, ripe renditions of our estate wines.
WINEMAKING
The crest of Boon Fly's Hill ripens earlier than the rest of our Chardonnay blocks, a result of the naturally lower crop that sets in this sandy, gravel-rich soil. Clusters are smaller here, and so are the berries themselves. Because the vines are more exposed at the crest, the sun-kissed fruit develops the ripe, rich flavors that make this wine so opulent. Fruit is picked at dawn and pressed whole-cluster, and the juice is immediately placed into new Kádár Heavy Toast barrels. The barrels are quickly placed into a cold room where long, drawn-out primary and secondary fermentations allow for the lees to contribute creamy flavors to the wine. After this initial active period, the wine sits untouched before it is racked off clean for bottling, unfined and just lightly filtered.
Alex Beloz, Winemaker

Varietal/Blend
Chardonnay
Appellation
Los Carneros, Napa Valley
Harvest Date
Aug 20, 2015
Titratable Acidity
6.35 g/L
Aging
22 Months in 100% New Heavy Toast Barrels
Wine Profile
Cooperage
100% Kádár Hungary
Year Planted
1973; Replanted in 1997