2019 "Eleven Rows" Petite Sirah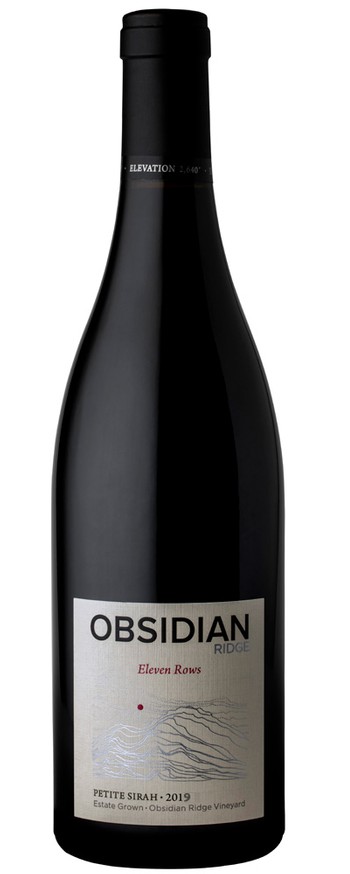 Wine Club Member Price $40.80
TASTING NOTES
Imagine you spent the morning hiking a dusty trail lined with blackberry bushes. You pick as many you can carry home, and throw a quick cobbler in the oven. Still dusty and a little salty, you sip a fresh cup of coffee and bite into a chocolate croissant when suddenly the kitchen is bursting with the aromas of warm berries, cinnamon and brown sugar. Yeah, its kind of like that.
VOLCANIC VINEYARD SITE
Obsidian Ridge Vineyard is sits on a volcanic flow at the northern tip of the Mayacamas Range at a half mile of elevation. Vines planted in 1999 on red volcanic soils shot with black obsidian are subject to an unforgiving, mountain climate. Low humidity, cold night time temperatures, and ultraviolet exposure 10% greater than at sea level all contribute to developing small grapes with dark color, thick skins, and intense flavors.
THREE ELEVATION ZONES
The estate is planted primarily to Cabernet Sauvignon across three climactic zones ranging from 2,300 to 2,640 feet. We allowed ourselves a few experiments when we planted, one of the most successful is the single block of eleven short rows of Petite Sirah planted in the uppermost portion on the steepest slope. Here above the inversion, ten degrees warmer on average than the lowest elevation of the vineyard, these vines ripen a month earlier and produce distinctively luscious, round and and rich wines.
HUNGARIAN BARRELS
Obsidian wines are aged in 100% Hungarian oak barrels. Our source forest in Tokaj is planted to the same oak species used in France, Quercus Petraea, however the trees grow more slowly due to the volcanic soils, resulting in 30% higher density of the wood. These super-tight-grain barrels are low in vanillan and relatively high in eugenol, which emphasize herbal and spice components, and are toasted slowly at low temperatures to avoid imparting overt toasty notes.
Alex Beloz, Winemaker
Varietal/Blend
Petite Sirah
Appellation
Red Hills Lake County
Vineyard Designation
Obsidian Ridge Vineyard
Titratable Acidity
5.1 g/L
Aging
16 months in 25% New, Medium Toast Plus Barrels