2019 "The Bench" Pinot Noir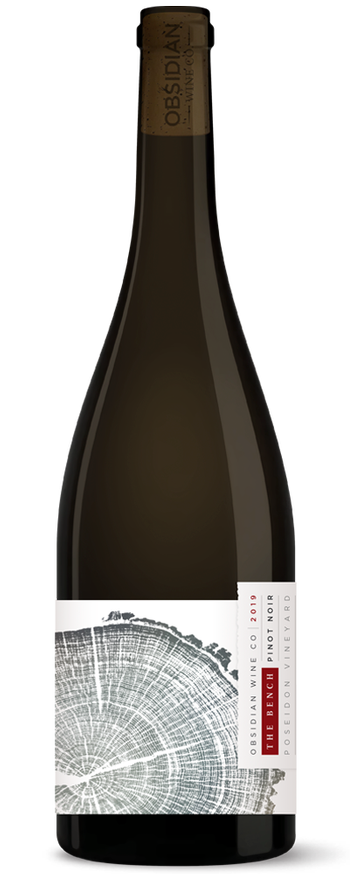 Club Member Price: $51.00
TASTING NOTES
Sometime the middle child finds it difficult to stand out, but sometimes they bask in being a blend of their siblings. So is it that our Bench Pinot Noir basks in the glory of balance, sharing some of the bigger, richer personality of the Primo's Hill bottling, and flavor elements of the lighter Estate Blend. Aromas of dried raspberries, cola, black cherry and leather. Medium-full on the palate, with a long, seamless flow. A vein of silky tannins means you can age this wine.
HISTORY
The maritime environment of the Carneros grape-growing region delivers cool, foggy mornings followed by warm days that slowly nurture ripening. This seaside influence is particularly acute at our Poseidon Vineyard; one can see the masts of boats bobbing in the water just a few steps to the south. The prominent feature of our vineyard is the gravelly, geological "Bench"—the elevated, rocky, former riverbank of Carneros Creek—that runs serpentine through the center of the site. From this unique geological feature spring some of our most distinct, small-production wines.
VINTAGE
The 2019 growing season got off to a wet and cool start, but a moderate summer allowed for normal vine development and a slightly above-average sized crop. As the summer progressed, the vines made up for some of their late start. A comfortable fall allowed for longer hang time, good fruit maturity and excellent flavor development. The harvest started with a leisurely pace and quickened at the start of October. As a precaution against wildfires, our cellar was in the power company's blackout zone, throwing the crew for a loop. But our outage was short, and proved harmless to the ongoing fermentations—it was one of the few sources of anxiety in an otherwise textbook season.
WINEMAKING
The three sections of our two-acre "Bench" from our Poseidon Vineyard are different clones, and they are harvested and fermented separately. This year the wine is a barrel selection only the Martini clone and is highly aromatic, bright, lively and elegant. Racking wine is the process of moving the wine from one vessel to another during its barrel aging – we rack this Pinot only once before bottling to maintain the pure fruit expression.
Alex Beloz, Winemaker
Varietal/Blend
100% Pinot Noir
Appellation
Los Carneros, Napa Valley
Vineyard Designation
Poseidon Vineyard
Titratable Acidity
5.27 g/L
Aging
14 months in 20% New, Medium Toast Plus Kádár Barrels
Wine Profile
Year Planted
1973; Replanted in 1997