2021 "Cuvée Kati" Proprietary Red Blend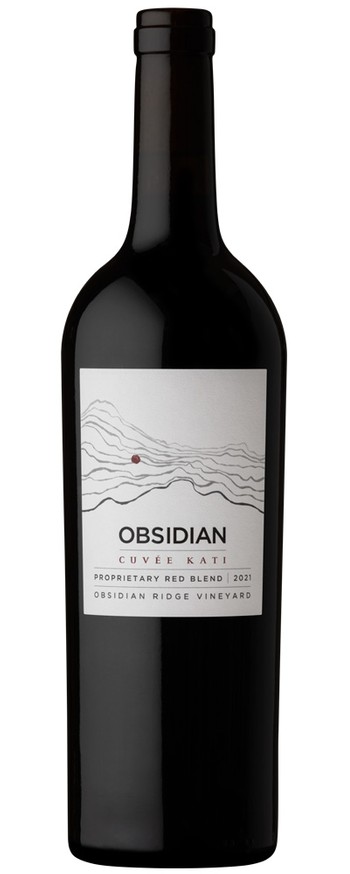 Wine Club Member Price $46.75
CUVÉE KATI
Grapes grown at the coldest, most remote pockets of the vineyard are distinctively aromatic and restrained, reminiscent of old-world Bordeaux-style wines. Formerly known as 'The Chief', we renamed this wine on the 50th anniversary of our grape-growing adventures after another elegant, old-world classic, our mother Kati. An aromatic, fresh and deeply textured wine, with plenty of fresh berry and earthy spice.
VOLCANIC VINEYARD SITE
Obsidian Ridge Vineyard is sits on a volcanic flow at the northern tip of the Mayacamas Range at a half mile of elevation. Vines planted in 1999 on red volcanic soils shot with black obsidian are subject to an unforgiving mountain climate. Low humidity, cold night time temperatures, and ultraviolet exposure 10% Greater than at sea level all contribute to developing small grapes with dark color, thick skins, and intense flavors. The estate is planted primarily to Cabernet Sauvignon across three climactic zones ranging from 2,300 to 2,640 feet.

CLASSIC BORDEAUX-STYLE BLEND
Cabernet Sauvignon, Malbec and Petit Verdot from select blocks and clones on Obsidian Ridge Vineyard were picked in late September into early October. We carefully destemmed the fruit and fermented the grapes in small tanks, judiciously pumping over to avoid over-extraction. We placed the young wine in our Kádár barrels and aged it for 18 months. Then we painstakingly tasted and re-tasted each barrel, looking for the higher-toned acidity and faint herbaceous notes that are signatures of the slightly lighter, more elegant Bordelaise expression of Cabernet. We assembled a final blend of 15 barrels, bottled the wine unfined and unfiltered, and gave it a full year in bottle to fully harmonize.

HUNGARIAN BARRELS
Obsidian wines are the only cabernet sauvignons in California (perhaps the world) aged in 100% Hungarian oak barrels. Our source forest in Tokaj is planted to the same oak species used in France, Quercus Petraea, however the trees grow more slowly due to the volcanic soils, resulting in 30% higher density of the wood. These super-tight-grain barrels are low in vanillan and are toasted slowly at low temperatures to avoid imparting overt toasty notes.
Alex Beloz, Winemaker
Varietal/Blend
76% Cabernet Sauvignon 6% Cabernet Franc 6% Merlot 6% Petit Verdot 6% Malbec
Appellation
Red Hills Lake County
Vineyard Designation
Obsidian Ridge Vineyard
Titratable Acidity
5.62 g/L