Adventurers: Chelsea Van Billiard, Hana Sayles, Douglas Thompson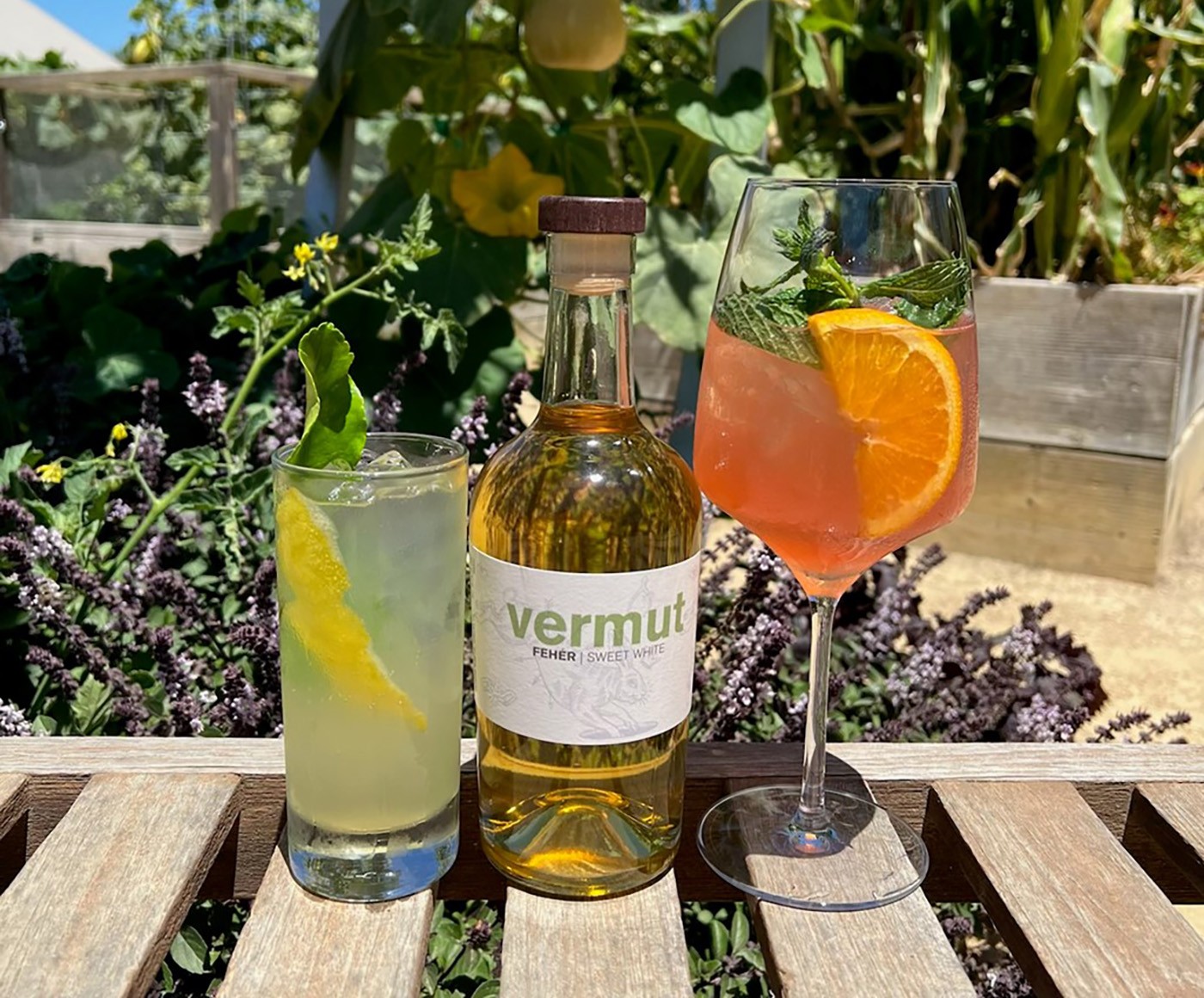 Obsidian makes a few different wines that are ideal for summer sipping: Sauvignon Blanc. Rosé for the Bay. Pezsgő Sparkling. Máslás Piquette. But sometimes when it is really hot, we want something with lower alcohol to quench our thirst.
Enter Vermut Fehér.
Refreshing and citrusy, a little herbal and slightly sweet, our white vermouth on the rocks with a splash of soda is a perfect summer sipper. But in the hands of mixologist Chelsea Van Billiard, it becomes so much more than a low abv cocktail.
Chelsea started bartending in her hometown of Las Vegas, where what started as a job became a passion. Since moving to San Francisco, her career has grown from dive bars to Michelin-starred restaurants. Chelsea's love of hospitality and connecting people with unique experiences is a way of life -- she is also a yoga teacher and dance performer.
Adventures in Low ABV Cocktails
When Douglas & Hana reached out to Chelsea to collaborate on refreshing summer cocktails with our Vermut Fehér, she took them on an adventure, with unique ingredients that are actually simple to find at any Whole Foods Market. She created two unique styles, one Asian-inspired, the other Italian-inspired, both incredibly refreshing.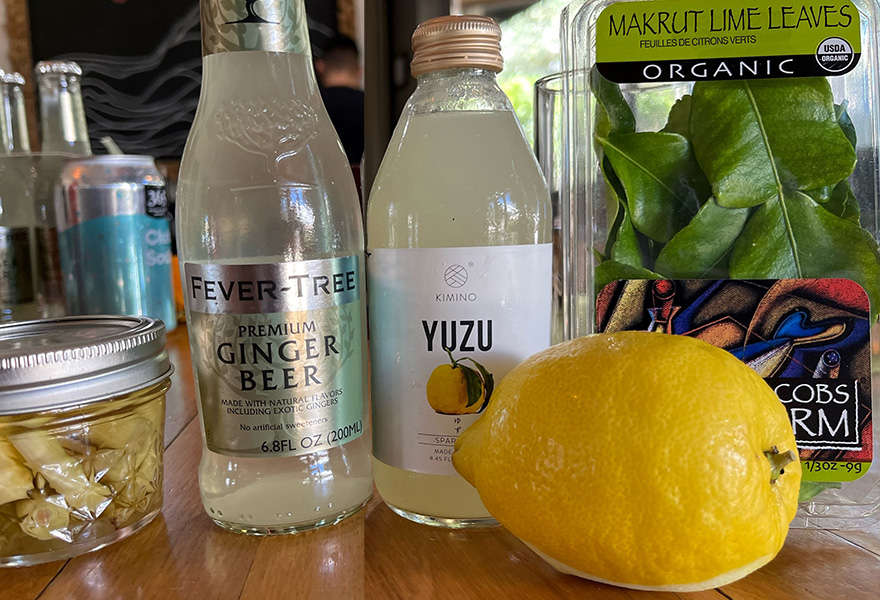 NYÁR: Yuzu soda, Thai lime leaf, and a little bite from either lemongrass OR ginger.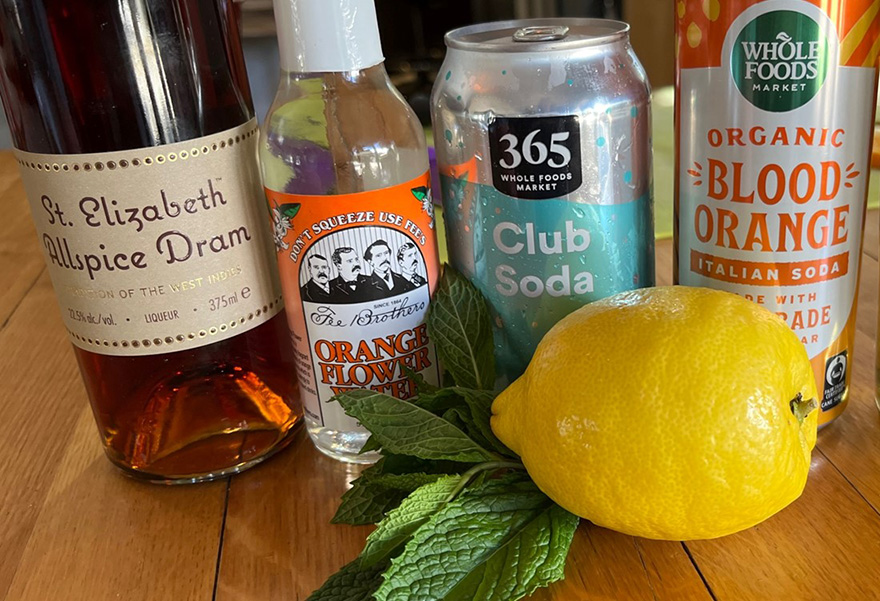 VIRÁGOS: A delicious alternative to an Aperol Spritz. (yeah, that should be an orange, not a lemon in the photo.)
NYÁR (means Summer in Hungarian)
Fill a Collins Glass with ice (highball, 10-14oz)
2 ounces Vermut Fehér
4 dashes lemongrass tincture (see recipe below, or substitute with Ginger Beer)
Top with sparkling Yuzu juice (or Yuzu soda)
Garnish with lemon peel and makrut lime leaf
Lemongrass Tincture
1 stalk lemongrass, cut into section to fit in jar
1 cup Everclear
Crush lemongrass lightly to express aroma, then add to a glass mason jar with the Everclear. Let sit 24 hours, then remove lemongrass.
We made this one on a scorching Sonoma afternoon and paired it with salmon sushi rolls. We loved the juicy and slightly bitter citrus flavors with the oily fish and pickled ginger.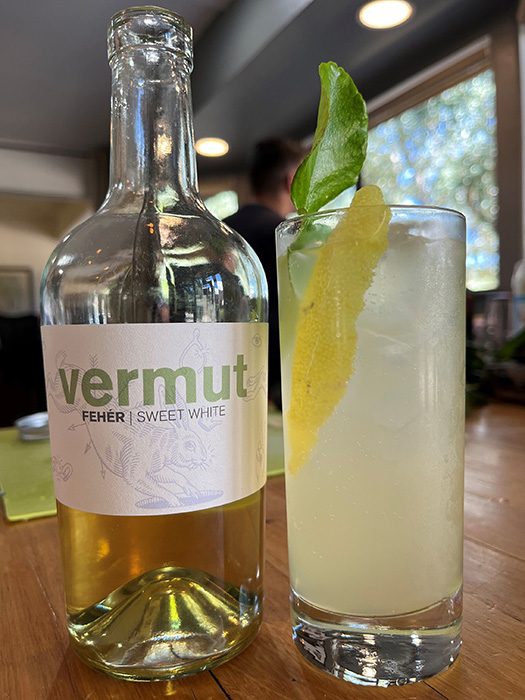 NYÁR Vermut Cocktail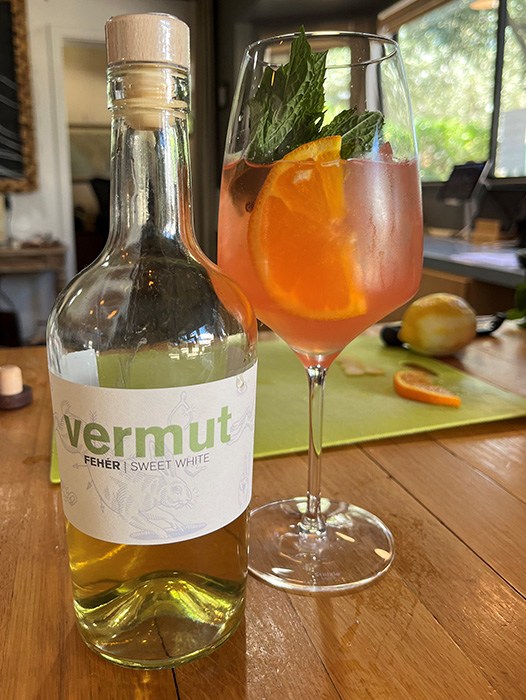 VIRÁGOS Vermut Cocktail
VIRÁGOS (means Floral in Hungarian)
Fill a wine glass halfway with ice
2 ounces Vermut Fehér
1 bar spoon St. Elizabeth All Spice Dram (about a teaspoon)
3-4 dashes Orange Flower Water
3 oz soda water
3 oz Blood Orange Italian Soda
Slide an orange half moon on each side of the glass
Garnish with a sprig of mint
The bouquet of mint adds adds aroma rather than flavor, and is a refreshing pick-me-up when the heat has you flagging. Blood orange is just delicious, and we are slightly obsessed with the aroma of the All Spice Dram, which was new to us. (If you can't find All Spice Dram near you, you can substitute it with any spiced rum, or Drambuie. You can even use a little Angostura bitters in a pinch.)
Reminiscent of an Aperol Spritz, but fresher, more citrus and warm spice. Like a touch of Italy, or maybe the Caribbean, in your very own backyard.