2019 "The Cinders" Syrah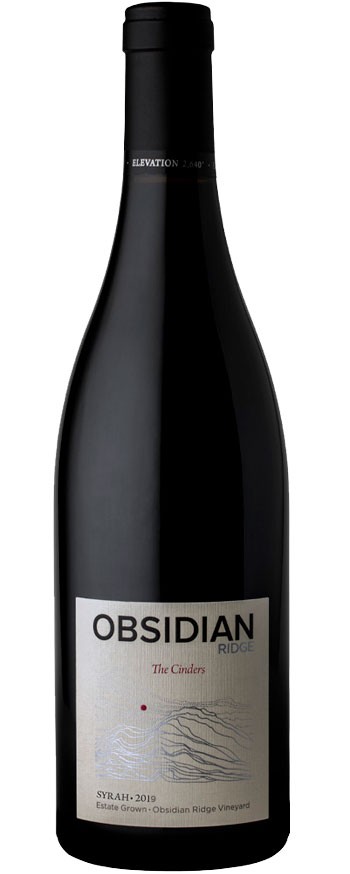 Wine Club Member Price: $46.75
TASTING NOTES
Polished blackberry aromas infused with cinnamon spice lead to a soft and silky palate bursting with fresh fruit flavors of juicy black plum and blackberry, with notes of coffee, vanilla, smoke and brown spices
VOLCANIC VINEYARD SITE
Obsidian Ridge Vineyard sits on a volcanic flow at the northern tip of the Mayacamas Range at a half mile of elevation. Vines planted in 1999 on red volcanic soils shot with black obsidian are subject to an unforgiving, mountain climate. Low humidity, cold night time temperatures, and ultraviolet exposure 10% greater than at sea level all contribute to developing small grapes with dark color, thick skins, and intense flavors in this Syrah.
THREE ELEVATION ZONES
The estate is planted primarily to Cabernet Sauvignon across three climactic zones ranging from 2,300 to 2,640 feet. The uppermost portion sits above the inversion layer on the steepest, rockiest slope, ten degrees warmer on average than the lowest elevation of the vineyard. Two clones of Syrah are planted on an exposed rocky strip in the northwest corner of the estate. The site is where the trees of the abandoned walnut orchard were cleared into a 50-foot mound and burned, the cinders mixing with the black rock. The poor soil restricts the normally vigorous syrah vines so much that we do not even remove leaves, which are needed to shade the fruit on this exposed site and prevent overripening and dehydration.
HUNGARIAN BARRELS
This Syrah is aged in 100% Hungarian oak barrels. Our source forest in Tokaj is planted to the same oak species used in France, Quercus Petraea, however the trees grow more slowly due to the volcanic soils, resulting in 30% higher density of the wood. These super-tight-grain barrels are low in vanillan and relatively high in eugenol, which emphasize spice components, and are toasted slowly at low temperatures to avoid imparting overt toasty notes. We use exclusively Kádár Tokaj barrels from our own cooperage. For the Syrah, winemaker Alex Beloz prefers once-used barrels to provide just the right notes to showcase the fruit
Alex Beloz, Winemaker
Appellation
Red Hills Lake County
Vineyard Designation
Obsidian Ridge Vineyard
Titratable Acidity
5.41 g/L
Wine Profile
Cases Produced
14 barrels